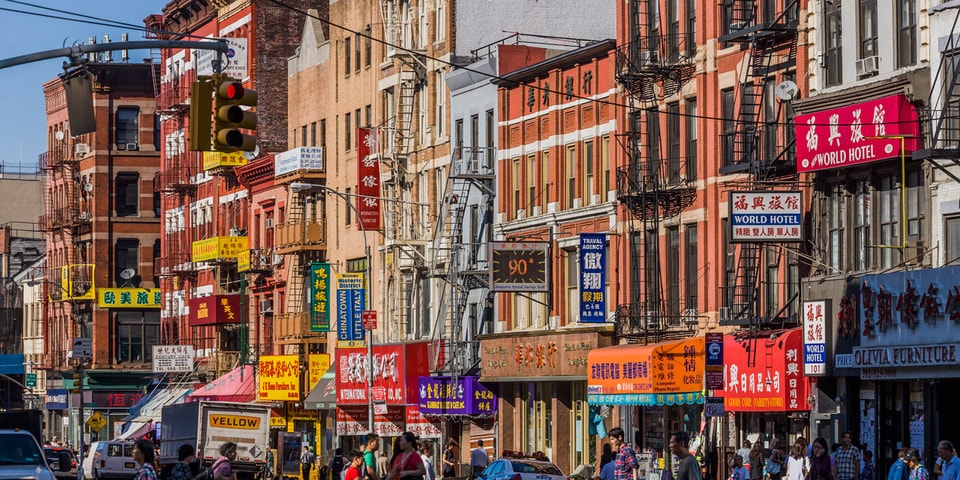 Amid the directing aroma of freshly roasted duck, the simplicity of sidewalk bargaining in front of fruit vendor carts, and the cacophony of busy, busy passers-by, New York's Chinatown is undoubtedly one of the most dynamic neighborhoods in all of Manhattan. Among the myriad of storefronts – some freshly minted and some decades old – the bustling downtown is home to not only some of the best Asian cuisine, but also some of the oldest businesses and most unique store concepts in the city. . (Not to mention, it's also home to the first US flagship store for Hypebeast's HBX e-commerce and retail platform.)
Between the multitude of eclectic restaurants, specialty shops and streetwear outposts, it's easy to spend an entire day exploring all the winding streets of the vibrant neighborhood. Before your visit to Chinatown, consider checking out the eight must-see gems listed below.
What: With a heritage spanning five generations, Wing On Wo & Co. is the oldest continuously operating store in Manhattan's Chinatown. Founded in the 1890s, the heritage shop first sold traditional Chinese goods – including dried fish and preserves – for the growing immigrant community at the time, although it is now renowned for its porcelain and its cultural property. Along with its revered household items, the centuries-old destination is also known for its philanthropy — fifth-generation owner Mei Lum founded an initiative called The WOW Project, which serves to preserve the Chinatown community.
Where: 26 Mott Street, New York, NY 10013
What: Located on Eldrige Street, Solely Tea is a one-of-a-kind retail space hosting a curated selection of sneakers, streetwear, up-and-coming artists and – you guessed it – boba drinks. Founded by two siblings whose first home was Chinatown after their father immigrated to the United States, the store is interpolated with the flavors of their upbringing in the cultural center. Currently, the store caters to sneakerheads with a myriad of shoes, including Jordan 1s, Nike Dunk Lows, Yeezy models, New Balance and more, as well as a bubble drink menu, which includes milk tea, fruit tea, yakult and slushies.
Where: 111 Eldridge Street, New York, NY 10002
What: Chinatown Ice Cream Factory has been serving traditional and authentic Chinese desserts to the neighborhood for nearly four decades. A family-owned business, the ice cream shop's entire menu is homemade, with staple flavors such as almond cookie, black sesame, durian, ginger, lychee, and taro. The delicious Chinatown stop also offers an "exotic" menu, which features mundane flavors like vanilla, strawberry, mint, chocolate and more.
Where: 65 Bayard Street, New York, NY 10013
What: If you're used to browsing Grailed in your spare time, look no further than Unique Hype. Located on Elizabeth Street, this humble storefront is a destination of high-end streetwear and designer stockists with a seemingly endless supply of Supreme. Beneath bold silver signage, a window beckons passers-by with rows full of caps emblazoned with the iconic box logo of the aforementioned cult New York skater brand. Besides Supreme, however, the outpost is known for carrying a slew of work by famous streetwear artists, including KAWS, Takashi Murakami, and many more.
Where: 10 Elizabeth Street, New York, NY 10013
What: Just north of Canal is Mott Street Eatery, a food court devoted entirely to Chinese cuisine with open vendor stalls either side of its eclectic interior. Cantonese dim sum classics – including dumplings, rolls, rice rolls and turnip cake – can be found under a canopy titled 89 Eatery, while another, dubbed Domo Sushi, offers a variety of traditional rolls. Meanwhile, Yan Wo Dou Bun INC. occupies the space with its famous soy milk and sweet tofus dessert. The restaurant, which replaced Chinatown's revered Joy Lucky Palace banquet hall, seats around 100 people at 12 tables with a small stage at the end of the space.
Where: 98 Mott Street, New York, NY 10013
What: New York's oldest family-owned tofu store, Fong On first opened in Chinatown in 1933. Owner Paul Eng, who inherited the reins of the restaurant from his grandfather, made the restaurant a popular place for its ready-to-eat tofu bar, which offers hot and cold tofu pudding with various toppings. Elsewhere on the menu, you can find homemade soymilk and sweet, sticky rice cakes in flavors such as matcha and ginger.
Where: 81 Division Street, New York, NY 10002
What: Born in Beijing, Yùnhóng Chopsticks moved to Lower Manhattan in November 2008. With around 200 different styles lining its walls, the outpost is something of a mecca for chopsticks, featuring designs crafted from bamboo, sandalwood and ox bone, among other materials. There are a myriad of more specific designs, including pairs featuring Chairman Mao's famous quotes and Peking Opera-inspired designs. Notably, the specialist design imprint designed the official wands for the 2008 Summer Olympics.
Where: 50 Mott Street, New York, NY 10013
Buying a new pair of chopsticks? pic.twitter.com/XCHJatu4a2

— The Brooklyn Nets (@BrooklynNets) July 24, 2019
What: Serving the neighborhood for over 100 years, Nom Wah Teahouse is undoubtedly a Chinatown staple, offering fresh Chinese pastries, steamed buns, dim sum and, of course, tea. The hot spot is best known for its almond cookies, lotus paste and red bean filling, but the kitchen also prepares a number of different dumplings and rolls. For tea, Nom Wah favorites include Oolong, Tie guanyin, Jasmine and Bo-lay.
Where: 13 Doyers St., New York, NY 10013