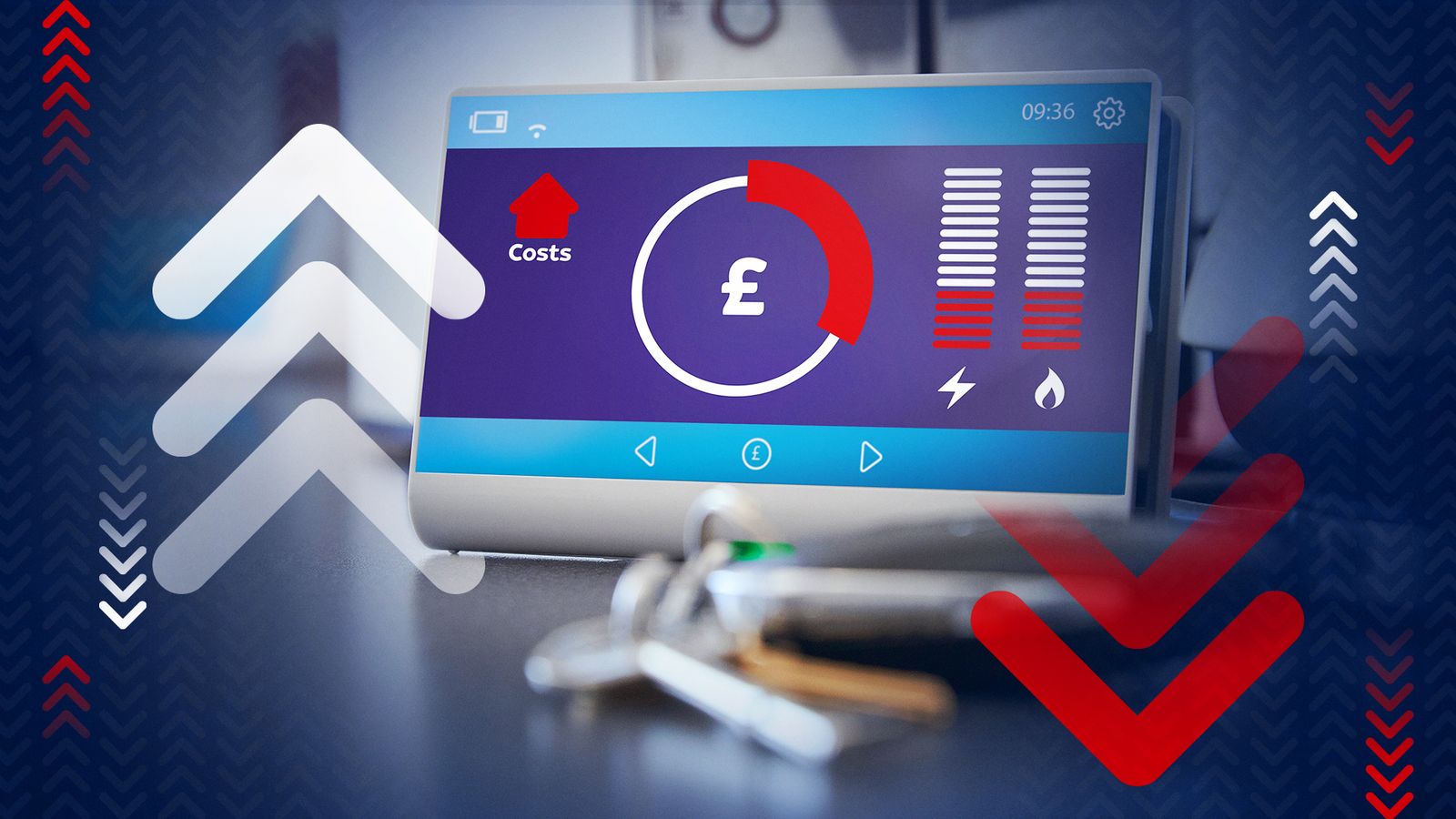 An exclusive poll for Sky News has found that a third of households are already struggling to pay their energy bills.
This is without the added pain of increased energy price capwhich will be announced on Friday and should increase bills by another 80% from October.
According to the Ipsos survey, one person in 10 finds it "very difficult" to pay their energy invoices in the last three months and two in 10 found it "quite difficult".
Ipsos surveyed a representative sample of 2,000 adults aged 18 to 75 in Britain between August 22 and 24 for Sky News.
Households with children and low-income people are most likely to struggle to stay on top of their electricity and gas payments, according to the survey.
But some middle-to-high income people are also already struggling to pay. One in four people earning between £35,000 and £54,999 say they have struggled to pay their energy bills in the last three months.
Many people are already deal with rising costs.
Nearly two out of five people have used a price comparison site and more than a third have installed a smart meter in the last three months.
More worryingly, 29% of people used their savings to pay an energy bill, 15% missed payments on another household bill, and 14% borrowed money to make energy payments.
The government has put in place a package of support measures which includes a £400 cut on the energy bill for all households, but there are growing pressure to do more before the difficult winter months.
Most people don't believe that any of the potential prime ministers can address the cost of living crisisaccording to the survey.
Liz Truss, the bookmaker's favorite for the job, trails Sir Keir Starmer and Rishi Sunak, with just 28% of people saying they trust her to cut the cost of living.
So, perhaps unsurprisingly, most households plan to take personal action to deal with rising costs over the next six months.
The most popular answers from respondents were to work more hours in their current job (30%), sell belongings (30%) and take a second job (21%).
How bad is it going to get?
The cost of living crisis is expected to worsen significantly over the next year as energy bills rise further.
This is largely due to a rise in the energy price cap, which is expected to push the average household's annual bills to over £5,300 by April 2023.
Low-income families are hardest hit as they spend more of their income on energy, but soaring prices mean most households will soon be spending a significant portion of their income on electricity and gas.
Professor Jonathan Bradshaw of the University of York's Social Policy Research Unit says many middle-income households are now less able to cope with rising prices than they were in previous years due to reduced savings and declining real incomes.
"Many won't be able to absorb rising energy prices," he says.
It predicts that two-thirds of households will be in fuel poverty (spending more than 10% of equivalent net income on energy bills) by early next year.
Households that are already struggling the most, families with children, are the most likely to be in fuel poverty by January 2023.
According to York University analysis, more than nine in ten couples with four or more children and single parents with two or more children will spend more than 10% of their income on energy. Half of the households in these groups will spend 30% or more of their income.
Professor Bradshaw says large families need support the most because they use up more energy, but it is "very tricky" to identify and target those who need it the most.
"If you only help people on means-tested benefits and pensioners, you will have missed a lot of people who will be in fuel poverty," he says.
"Any help will have to be quite rough and ready, a combination of extra help for people on means-tested benefits and subsidies for all or most consumers."
---
Methodology
Ipsos surveyed a representative quota sample of 1,962 adults aged 18-75 in Britain. Interviews took place online between August 22 and 24, 2022. Data was weighted according to known proportions of the offline population. All surveys are subject to a wide range of potential sources of error.
Complete tables can be found here.
---
The Data and forensics The team is a versatile unit dedicated to delivering transparent Sky News journalism. We collect, analyze and visualize data to tell data-driven stories. We combine traditional reporting skills with advanced analysis of satellite imagery, social media and other open source information. Through multimedia storytelling, we aim to better explain the world while showing how our journalism is done.
Why data journalism matters to Sky News