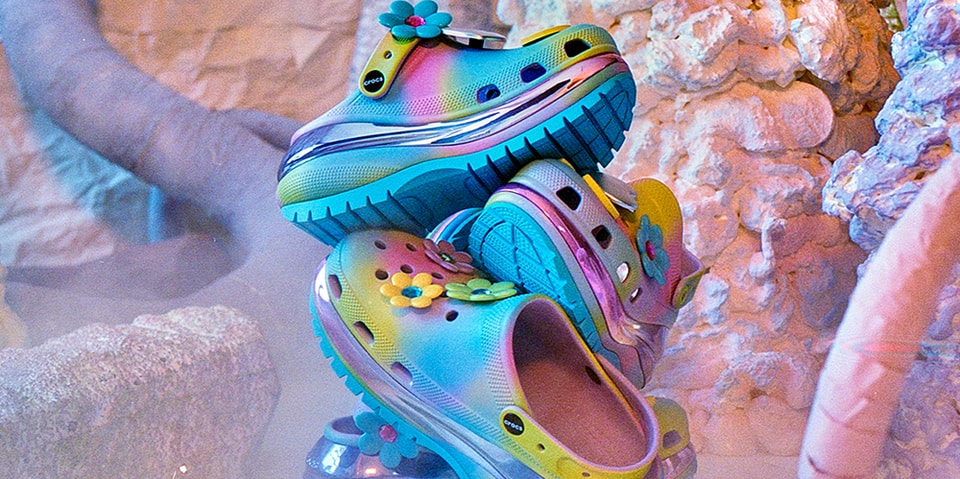 The list of Crocs collaborators is long and varied. In this summer alone, the brand launched new products alongside Salehe Bembury, Palace and MCM. Looking further afield, Crocs has also worked with everyone from Justin Bieber and Post Malone to Nicole McLaughlin and Awake NY. Perhaps most striking of all his collaborations, however, is his longtime work with Balenciaga, which has seen the Classic Clog twisted beyond recognition.
This collaborative strategy has allowed Crocs to remarkably change its reputation in recent years. While once known for comfort alone, the brand has become a bona fide player in the fashion industry, aiming to capitalize on this by hiring former Nike executive Emma Minto in 2021 with a mandate to pursue the upward trajectory of Crocs.
"Awareness has never been an issue," Heidi Cooley, chief marketing officer at Crocs, told Hypebeast. "Whether you wear Crocs or not, you know them. This created an incredible opportunity, so we decided to revive our icon, the Classic Clog. This silhouette has been central to Crocs' new strategy, frequently offered to co-workers or customized through special-edition Jibbitz packs.
"We're not too precious, we like to have fun and take risks," Cooley says. "No two collaborations are the same, and each project adopts its own unique DNA. It allows us to push boundaries and find new ways to reinvent our shoes and turn them into something completely one-of-a-kind, suitable for a new and diverse audience. Thanks to its collaborations with artists and brands from different universes, whether it's music, fashion or even food, Crocs has been able to move the dial – so much so that it is now considered a design choice rather than a comfort choice.
With that elevated status in place, the next focus is where the brand can go from here. "Taking risks and embracing innovation has gotten us to where we are today and will help us carry us into the future," says Cooley. "Going forward, we will continue to explore opportunities through a digital-first social approach to provide our consumers with new experiences and new touchpoints to interact with our brand.
The plan for Crocs as it moves forward is to blend its successful collaborations with a renewed focus on its core products, showing what exists beyond the classic clog. "Our collaboration strategy will continue to amplify what we stand for as a brand, while creating unexpected moments that feel purposeful," said Lucy Thornley, global vice president of trends, consumer, design and product. of the brand. "While our partners respect what we stand for and authenticate the brand through their own unique lens, we also have an incredibly talented design team that enables us to bring out-of-the-box ideas to life, and our aspiration is to closing the gap between the collaborations and the main product. This will allow us to remain disruptive, to celebrate the polarization of our brand and to continue to exist in this tension of love and hate.
The focus on core releases has already started to pay off, with a slew of new releases including the "Spray Dye" collection, new categories such as the hiking-focused "All Terrain" range, and new silhouettes like the chunky Crush sandal. "We are focused on introducing new design languages ​​that combine innovation with our DNA of comfort," continues Thornley. "For us, it's about creating a product through the lens of consumer connectivity, introducing a wider range of new silhouettes to expand our reach as a brand. For the rest of this year, we will be releasing several new silhouettes, allowing us to break into new categories beyond clogs, including rain boots, slides, sandals, etc. Thornley highlights the upcoming Echo Clog as a particular favourite, describing "a distinctive exoskeletal design which emphasizes sculpting, bold form and premium comfort".
Whether through collaborations or changes to its core collection, Crocs isn't letting its newfound status slip away. "We are focused on longevity through new product innovations that embrace what we stand for while deepening consumer connectivity and remaining relevant to the cultural zeitgeist of the moment," concludes Thornley. "We will continue to listen to our consumers and see what they respond to, leading in-mold innovation by disruptively penetrating new product categories and wearing occasions."