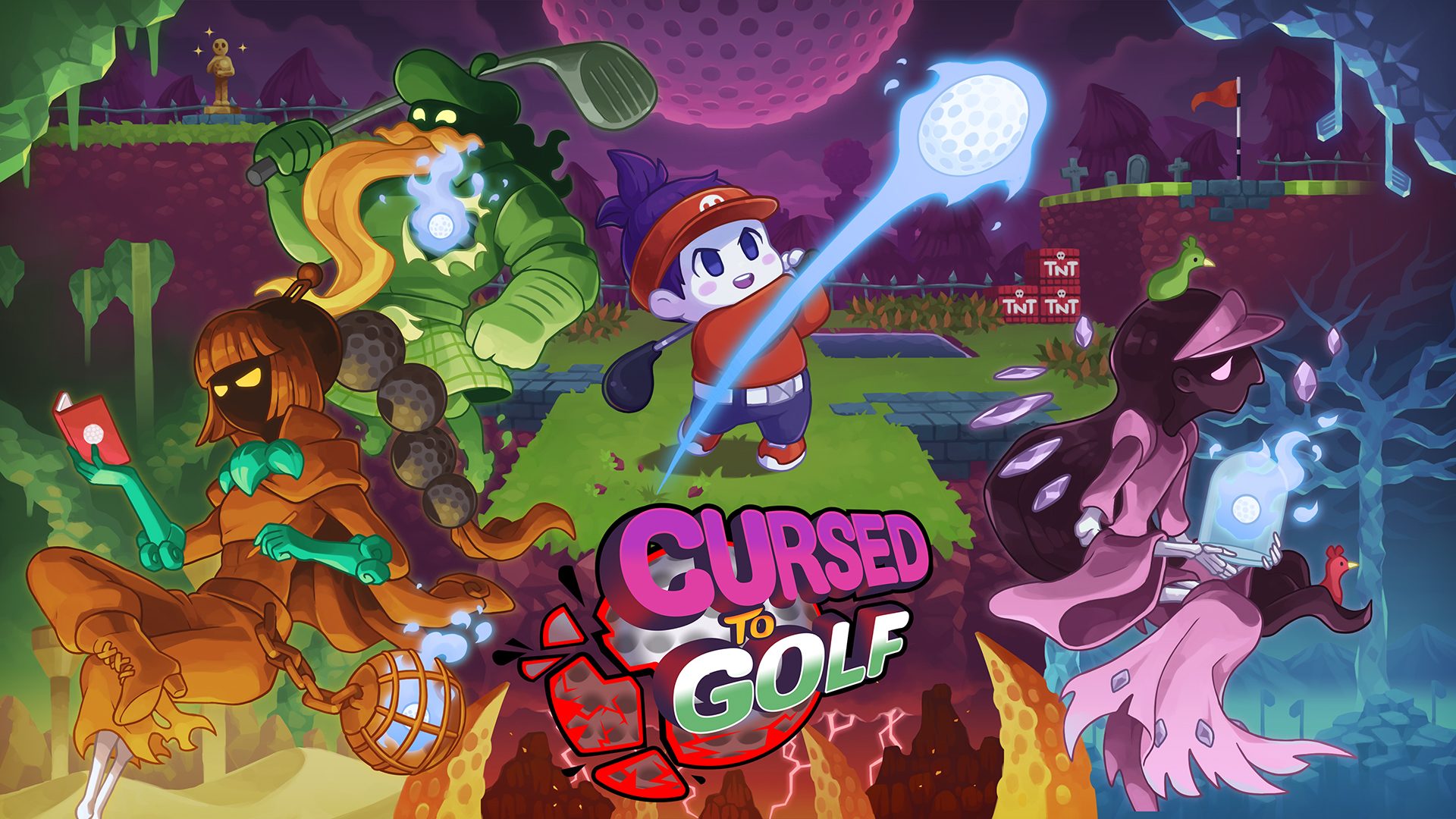 The time has finally come, Cursed to Golf is out TODAY on PS5 and PS4. It took 2 years of hard work and passion to get here. The team and I are immensely proud of our game, and we hope you all take our virtual journey into the afterlife to experience your days at Golf Purgatory. Last time I was here, I talked about the general rules of supernatural golf, the incredible power of ace cards, and some of the shenanigans you can get in between the holes. Today, let's get in on the action with some of the more perilous elements of Cursed to Golf. After all, if you want to get out of Golf Purgatory, it's better to take risks.
Who's the boss?
At the end of each biome is its ultimate challenge – the legendary caddy who oversees that part of the course. In Purgatory you will find The Scotsman, in the Desert you will face The Explorer, and the Caves are home to The Forgotten. These golf battles mix up the gameplay slightly and offer a few differences from the traditional purgatory golf gameplay you'll encounter on the rest of the course. Not only do you have to keep an eye on your shot meter, but you also have to beat the boss by ramming your ball past him. However, in addition to Shot Idols which replenish your shot count, these battles include Stun Idols. Hitting one of them will knock the boss down, causing it to miss a turn.
These golfers mean business and land incredible shots that defy the laws of physics! If you want to take down a Legendary Caddy, you'll need to master your Ace cards, use the best hotkeys, and make sure to smash a totem charge on your way to the mast. Luckily, the boss hole will always stay the same, so you can learn it by playing and experimenting to find the best strategy to complete it.
The high road or the low road?
The Scot's hole is designed for his characteristic long drives. It's also strewn with hazards and shortcuts up and down, so remember to use your Birdie Eye to get a real lay of the land and plan the route you want to take. Beating the Scotsman will unlock the "Comeback" perk, giving you the ability to place a checkpoint flag once per race. On your (almost certain) death, instead of being sent back to the start of the course, you will be taken back to your flag. Not only that, but you'll have all the ace cards and cash you had when you originally placed it, ready for another swing on the course!
The sea of ​​dunes
The Explorer Hole is a nightmare filled with sand dunes, expect to perfect your corner game there as you will constantly land in the bunker. In addition to this, the explorer has a special ability – she can modify the hole right in the middle of it while playing. You may land on an oddly flat and safe area, only to find a towering dune jutting out of the ground in front of you, sheesh! Beating the Explorer will earn you the "Gimmie" perk, giving you 5 extra hits in the blink of an eye when your hit count reaches 0. This powerful perk refreshes every hole, so don't feel precious about it.
Not the Cave of Wonders
The Forgotten's Hole is a deep, cavernous maze full of diverging paths, deviously placed hazards, and tricky fake flag poles that are home to golf ball-eating dinosaurs. You will face not only The Forgotten, but also his two pet birds Eagle and Albatross. These feathered flails will stop at nothing to make sure The Forgotten defeats you. If you land in one of their areas, they'll carry your ball into a hazard, losing shots at you and putting you in tough spots for your next swing.
They will also grab the ball from The Forgotten and run her over difficult obstacles, dropping her into opportunistic positions for her next shot. There's no way to sugarcoat it, it's an uphill battle, but if you win, you'll unlock the "Recovery" perk. With Recovery, when you die, you'll be able to keep your deck of Aces and use it on your next run, giving you a big head start from the start of hole 1. Because we're not masochists complete, once a boss is defeated you don't need to face them again in future runs and you can keep their perks as well.
A blessing or a curse?
Speaking of masochists, those of you who really want to risk the cookie can tackle the CURSED HOLES! You'll often find them at crossroads when navigating the map between holes. One route may have a standard pickup and hole, while the other will give you extra goodies and a skull-covered hole at the end. These cursed holes mix things up by triggering random modifiers with each hit. These "curses" could include making your ball more bouncy for a few shots, limiting you to only be able to shoot in one direction, flipping the course upside down, and other distracting obstacles to your game. cursed will earn you extra money and a map booster. In Golf Purgatory, the saying is true – high risk leads to high reward.
See you in hell
A course filled with random dungeon-like holes, devious death traps, challenging bosses, and evil curses; my goodness, Golf Purgatory never throws much at you. Well, if you skip all that to the 16th hole, you'll be in HELL. Get ready for the ultimate challenge here. I won't spoil what awaits you in hell, but let's just say it lives up to its namesake. Get ready to use all your golf skills, ace card abilities and perks to survive the last bastion of Golf Purgatory before the ascension. No golfer has ever managed to pass here, will you be the first? Only one way to find out, get Cursed to Golf on PS5 or PS4 today!