Peep peep! More frustration for Liverpool, but that's an excellent night's work from Palace.

","elementId":"37695e1a-057a-43b6-966b-9797f6cae867″}],"attributes":{"pinned":false,"keyEvent":true,"summary":false},"blockCreatedOn":1660596859000,"blockCreatedOnDisplay":"21.54 BST","blockLastUpdated":1660596928000,"blockLastUpdatedDisplay":"21.55 BST","blockFirstPublished":1660596929000,"blockFirstPublishedDisplay":"21.55 BST","blockFirstPublishedDisplayNoTimezone":"21.55″,"title":"Full time: Liverpool 1-1 Crystal Palace","contributors":[],"primaryDateLine":"Mon 15 Aug 2022 22.07 BST","secondaryDateLine":"First published on Mon 15 Aug 2022 19.00 BST"},{"id":"62faaa758f08e57f94554ddd","elements":[{"_type":"model.dotcomrendering.pageElements.TextBlockElement","html":"

What a goal from Luis Diaz!

","elementId":"5d411aeb-c80d-4b2a-a4e8-277de454cd68″},{"_type":"model.dotcomrendering.pageElements.ImageBlockElement","media":{"allImages":[{"index":0,"fields":{"height":"2156″,"width":"3380″},"mediaType":"Image","mimeType":"image/jpeg","url":"https://media.guim.co.uk/8fc6b8aadc11a194b678f6673863233aec924cd5/0_0_3380_2156/3380.jpg"},{"index":1,"fields":{"isMaster":"true","height":"2156″,"width":"3380″},"mediaType":"Image","mimeType":"image/jpeg","url":"https://media.guim.co.uk/8fc6b8aadc11a194b678f6673863233aec924cd5/0_0_3380_2156/master/3380.jpg"},{"index":2,"fields":{"height":"1276″,"width":"2000″},"mediaType":"Image","mimeType":"image/jpeg","url":"https://media.guim.co.uk/8fc6b8aadc11a194b678f6673863233aec924cd5/0_0_3380_2156/2000.jpg"},{"index":3,"fields":{"height":"638″,"width":"1000″},"mediaType":"Image","mimeType":"image/jpeg","url":"https://media.guim.co.uk/8fc6b8aadc11a194b678f6673863233aec924cd5/0_0_3380_2156/1000.jpg"},{"index":4,"fields":{"height":"319″,"width":"500″},"mediaType":"Image","mimeType":"image/jpeg","url":"https://media.guim.co.uk/8fc6b8aadc11a194b678f6673863233aec924cd5/0_0_3380_2156/500.jpg"},{"index":5,"fields":{"height":"89″,"width":"140″},"mediaType":"Image","mimeType":"image/jpeg","url":"https://media.guim.co.uk/8fc6b8aadc11a194b678f6673863233aec924cd5/0_0_3380_2156/140.jpg"}]},"data":{"alt":"Luis Diaz of Liverpool scores after beating five players.","caption":"Luis Diaz of Liverpool scores after beating five players.","credit":"Photograph: Clive Brunskill/Getty Images"},"displayCredit":true,"role":"inline","imageSources":[{"weighting":"inline","srcSet":[{"src":"https://i.guim.co.uk/img/media/8fc6b8aadc11a194b678f6673863233aec924cd5/0_0_3380_2156/master/3380.jpg?width=620&quality=85&auto=format&fit=max&s=36cc54e625634f9c82b6badf1377ee0e","width":620},{"src":"https://i.guim.co.uk/img/media/8fc6b8aadc11a194b678f6673863233aec924cd5/0_0_3380_2156/master/3380.jpg?width=620&quality=45&auto=format&fit=max&dpr=2&s=07f2182b870d83711ca2cb9f5d30d9ce","width":1240},{"src":"https://i.guim.co.uk/img/media/8fc6b8aadc11a194b678f6673863233aec924cd5/0_0_3380_2156/master/3380.jpg?width=605&quality=85&auto=format&fit=max&s=cd177e83d2c80e2f1aaf921425fa068c","width":605},{"src":"https://i.guim.co.uk/img/media/8fc6b8aadc11a194b678f6673863233aec924cd5/0_0_3380_2156/master/3380.jpg?width=605&quality=45&auto=format&fit=max&dpr=2&s=976306c3177c845d87662fa8462fe8e5″,"width":1210},{"src":"https://i.guim.co.uk/img/media/8fc6b8aadc11a194b678f6673863233aec924cd5/0_0_3380_2156/master/3380.jpg?width=445&quality=85&auto=format&fit=max&s=5acee471e1a2cc850e434592f8a0a826″,"width":445},{"src":"https://i.guim.co.uk/img/media/8fc6b8aadc11a194b678f6673863233aec924cd5/0_0_3380_2156/master/3380.jpg?width=445&quality=45&auto=format&fit=max&dpr=2&s=c28ae1eeee0112b35651d69195a5fdf7″,"width":890}]},{"weighting":"thumbnail","srcSet":[{"src":"https://i.guim.co.uk/img/media/8fc6b8aadc11a194b678f6673863233aec924cd5/0_0_3380_2156/master/3380.jpg?width=140&quality=85&auto=format&fit=max&s=d8adbd9be89cf9d5d952452f659fca7b","width":140},{"src":"https://i.guim.co.uk/img/media/8fc6b8aadc11a194b678f6673863233aec924cd5/0_0_3380_2156/master/3380.jpg?width=140&quality=45&auto=format&fit=max&dpr=2&s=55ed472f6d85685e25c188113d0f5f14″,"width":280},{"src":"https://i.guim.co.uk/img/media/8fc6b8aadc11a194b678f6673863233aec924cd5/0_0_3380_2156/master/3380.jpg?width=120&quality=85&auto=format&fit=max&s=9332750e03e4f3ed4b7e8f59a182a6ce","width":120},{"src":"https://i.guim.co.uk/img/media/8fc6b8aadc11a194b678f6673863233aec924cd5/0_0_3380_2156/master/3380.jpg?width=120&quality=45&auto=format&fit=max&dpr=2&s=2c405e1b78bf3017cc2597cdc773e1a9″,"width":240}]},{"weighting":"supporting","srcSet":[{"src":"https://i.guim.co.uk/img/media/8fc6b8aadc11a194b678f6673863233aec924cd5/0_0_3380_2156/master/3380.jpg?width=380&quality=85&auto=format&fit=max&s=4015d2c2befc508c3e9844ec7ea27053″,"width":380},{"src":"https://i.guim.co.uk/img/media/8fc6b8aadc11a194b678f6673863233aec924cd5/0_0_3380_2156/master/3380.jpg?width=380&quality=45&auto=format&fit=max&dpr=2&s=4aef65e32b83c6e4b026a7833777a931″,"width":760},{"src":"https://i.guim.co.uk/img/media/8fc6b8aadc11a194b678f6673863233aec924cd5/0_0_3380_2156/master/3380.jpg?width=300&quality=85&auto=format&fit=max&s=4b89d875862a2bc741120c2c581f75c5″,"width":300},{"src":"https://i.guim.co.uk/img/media/8fc6b8aadc11a194b678f6673863233aec924cd5/0_0_3380_2156/master/3380.jpg?width=300&quality=45&auto=format&fit=max&dpr=2&s=64c71f6457f448ba3c41170ac94ced0b","width":600},{"src":"https://i.guim.co.uk/img/media/8fc6b8aadc11a194b678f6673863233aec924cd5/0_0_3380_2156/master/3380.jpg?width=620&quality=85&auto=format&fit=max&s=36cc54e625634f9c82b6badf1377ee0e","width":620},{"src":"https://i.guim.co.uk/img/media/8fc6b8aadc11a194b678f6673863233aec924cd5/0_0_3380_2156/master/3380.jpg?width=620&quality=45&auto=format&fit=max&dpr=2&s=07f2182b870d83711ca2cb9f5d30d9ce","width":1240},{"src":"https://i.guim.co.uk/img/media/8fc6b8aadc11a194b678f6673863233aec924cd5/0_0_3380_2156/master/3380.jpg?width=605&quality=85&auto=format&fit=max&s=cd177e83d2c80e2f1aaf921425fa068c","width":605},{"src":"https://i.guim.co.uk/img/media/8fc6b8aadc11a194b678f6673863233aec924cd5/0_0_3380_2156/master/3380.jpg?width=605&quality=45&auto=format&fit=max&dpr=2&s=976306c3177c845d87662fa8462fe8e5″,"width":1210},{"src":"https://i.guim.co.uk/img/media/8fc6b8aadc11a194b678f6673863233aec924cd5/0_0_3380_2156/master/3380.jpg?width=445&quality=85&auto=format&fit=max&s=5acee471e1a2cc850e434592f8a0a826″,"width":445},{"src":"https://i.guim.co.uk/img/media/8fc6b8aadc11a194b678f6673863233aec924cd5/0_0_3380_2156/master/3380.jpg?width=445&quality=45&auto=format&fit=max&dpr=2&s=c28ae1eeee0112b35651d69195a5fdf7″,"width":890}]},{"weighting":"showcase","srcSet":[{"src":"https://i.guim.co.uk/img/media/8fc6b8aadc11a194b678f6673863233aec924cd5/0_0_3380_2156/master/3380.jpg?width=860&quality=85&auto=format&fit=max&s=b7b5e599b846e390d1a4c7b0917e08f8″,"width":860},{"src":"https://i.guim.co.uk/img/media/8fc6b8aadc11a194b678f6673863233aec924cd5/0_0_3380_2156/master/3380.jpg?width=860&quality=45&auto=format&fit=max&dpr=2&s=61efc1295ebc81c5d20614f2b0f8e77a","width":1720},{"src":"https://i.guim.co.uk/img/media/8fc6b8aadc11a194b678f6673863233aec924cd5/0_0_3380_2156/master/3380.jpg?width=780&quality=85&auto=format&fit=max&s=cfc7080496e822f153cc1314b7d4e27a","width":780},{"src":"https://i.guim.co.uk/img/media/8fc6b8aadc11a194b678f6673863233aec924cd5/0_0_3380_2156/master/3380.jpg?width=780&quality=45&auto=format&fit=max&dpr=2&s=7fe9522a2d736753d59e35a4fcf0bb67″,"width":1560},{"src":"https://i.guim.co.uk/img/media/8fc6b8aadc11a194b678f6673863233aec924cd5/0_0_3380_2156/master/3380.jpg?width=620&quality=85&auto=format&fit=max&s=36cc54e625634f9c82b6badf1377ee0e","width":620},{"src":"https://i.guim.co.uk/img/media/8fc6b8aadc11a194b678f6673863233aec924cd5/0_0_3380_2156/master/3380.jpg?width=620&quality=45&auto=format&fit=max&dpr=2&s=07f2182b870d83711ca2cb9f5d30d9ce","width":1240},{"src":"https://i.guim.co.uk/img/media/8fc6b8aadc11a194b678f6673863233aec924cd5/0_0_3380_2156/master/3380.jpg?width=605&quality=85&auto=format&fit=max&s=cd177e83d2c80e2f1aaf921425fa068c","width":605},{"src":"https://i.guim.co.uk/img/media/8fc6b8aadc11a194b678f6673863233aec924cd5/0_0_3380_2156/master/3380.jpg?width=605&quality=45&auto=format&fit=max&dpr=2&s=976306c3177c845d87662fa8462fe8e5″,"width":1210},{"src":"https://i.guim.co.uk/img/media/8fc6b8aadc11a194b678f6673863233aec924cd5/0_0_3380_2156/master/3380.jpg?width=445&quality=85&auto=format&fit=max&s=5acee471e1a2cc850e434592f8a0a826″,"width":445},{"src":"https://i.guim.co.uk/img/media/8fc6b8aadc11a194b678f6673863233aec924cd5/0_0_3380_2156/master/3380.jpg?width=445&quality=45&auto=format&fit=max&dpr=2&s=c28ae1eeee0112b35651d69195a5fdf7″,"width":890}]},{"weighting":"halfwidth","srcSet":[{"src":"https://i.guim.co.uk/img/media/8fc6b8aadc11a194b678f6673863233aec924cd5/0_0_3380_2156/master/3380.jpg?width=620&quality=85&auto=format&fit=max&s=36cc54e625634f9c82b6badf1377ee0e","width":620},{"src":"https://i.guim.co.uk/img/media/8fc6b8aadc11a194b678f6673863233aec924cd5/0_0_3380_2156/master/3380.jpg?width=620&quality=45&auto=format&fit=max&dpr=2&s=07f2182b870d83711ca2cb9f5d30d9ce","width":1240},{"src":"https://i.guim.co.uk/img/media/8fc6b8aadc11a194b678f6673863233aec924cd5/0_0_3380_2156/master/3380.jpg?width=605&quality=85&auto=format&fit=max&s=cd177e83d2c80e2f1aaf921425fa068c","width":605},{"src":"https://i.guim.co.uk/img/media/8fc6b8aadc11a194b678f6673863233aec924cd5/0_0_3380_2156/master/3380.jpg?width=605&quality=45&auto=format&fit=max&dpr=2&s=976306c3177c845d87662fa8462fe8e5″,"width":1210},{"src":"https://i.guim.co.uk/img/media/8fc6b8aadc11a194b678f6673863233aec924cd5/0_0_3380_2156/master/3380.jpg?width=445&quality=85&auto=format&fit=max&s=5acee471e1a2cc850e434592f8a0a826″,"width":445},{"src":"https://i.guim.co.uk/img/media/8fc6b8aadc11a194b678f6673863233aec924cd5/0_0_3380_2156/master/3380.jpg?width=445&quality=45&auto=format&fit=max&dpr=2&s=c28ae1eeee0112b35651d69195a5fdf7″,"width":890}]},{"weighting":"immersive","srcSet":[{"src":"https://i.guim.co.uk/img/media/8fc6b8aadc11a194b678f6673863233aec924cd5/0_0_3380_2156/master/3380.jpg?width=1900&quality=85&auto=format&fit=max&s=a6c77b4b56759b055e8a8a466150b70e","width":1900},{"src":"https://i.guim.co.uk/img/media/8fc6b8aadc11a194b678f6673863233aec924cd5/0_0_3380_2156/master/3380.jpg?width=1900&quality=45&auto=format&fit=max&dpr=2&s=91d5160e3d0f82542a18ab2960d876df","width":3800},{"src":"https://i.guim.co.uk/img/media/8fc6b8aadc11a194b678f6673863233aec924cd5/0_0_3380_2156/master/3380.jpg?width=1300&quality=85&auto=format&fit=max&s=6c66836e7e4f5cdb9fd81c4942b9b034″,"width":1300},{"src":"https://i.guim.co.uk/img/media/8fc6b8aadc11a194b678f6673863233aec924cd5/0_0_3380_2156/master/3380.jpg?width=1300&quality=45&auto=format&fit=max&dpr=2&s=a2d86fde701f706d8c7eff1a81237a8b","width":2600},{"src":"https://i.guim.co.uk/img/media/8fc6b8aadc11a194b678f6673863233aec924cd5/0_0_3380_2156/master/3380.jpg?width=1140&quality=85&auto=format&fit=max&s=c0de8475b0e6ba7032f52d1d799b7e81″,"width":1140},{"src":"https://i.guim.co.uk/img/media/8fc6b8aadc11a194b678f6673863233aec924cd5/0_0_3380_2156/master/3380.jpg?width=1140&quality=45&auto=format&fit=max&dpr=2&s=4f5ddc2f57bc68ed7219a1328d446e83″,"width":2280},{"src":"https://i.guim.co.uk/img/media/8fc6b8aadc11a194b678f6673863233aec924cd5/0_0_3380_2156/master/3380.jpg?width=980&quality=85&auto=format&fit=max&s=6a84d2fb285251ce91c8887f703ff326″,"width":980},{"src":"https://i.guim.co.uk/img/media/8fc6b8aadc11a194b678f6673863233aec924cd5/0_0_3380_2156/master/3380.jpg?width=980&quality=45&auto=format&fit=max&dpr=2&s=4b320b32dcc8f00b38eb0c16c68c65d6″,"width":1960},{"src":"https://i.guim.co.uk/img/media/8fc6b8aadc11a194b678f6673863233aec924cd5/0_0_3380_2156/master/3380.jpg?width=740&quality=85&auto=format&fit=max&s=d2ba022572c5b53d54f397bd2ae59491″,"width":740},{"src":"https://i.guim.co.uk/img/media/8fc6b8aadc11a194b678f6673863233aec924cd5/0_0_3380_2156/master/3380.jpg?width=740&quality=45&auto=format&fit=max&dpr=2&s=b53df66194862bf123fef502869563bd","width":1480},{"src":"https://i.guim.co.uk/img/media/8fc6b8aadc11a194b678f6673863233aec924cd5/0_0_3380_2156/master/3380.jpg?width=660&quality=85&auto=format&fit=max&s=4bc56cf16ae6a21f3a3cc3da1a4ada19″,"width":660},{"src":"https://i.guim.co.uk/img/media/8fc6b8aadc11a194b678f6673863233aec924cd5/0_0_3380_2156/master/3380.jpg?width=660&quality=45&auto=format&fit=max&dpr=2&s=e3587fce7723fcf999750b1386ba4324″,"width":1320},{"src":"https://i.guim.co.uk/img/media/8fc6b8aadc11a194b678f6673863233aec924cd5/0_0_3380_2156/master/3380.jpg?width=480&quality=85&auto=format&fit=max&s=018ea71193034b3c871298681f309ce1″,"width":480},{"src":"https://i.guim.co.uk/img/media/8fc6b8aadc11a194b678f6673863233aec924cd5/0_0_3380_2156/master/3380.jpg?width=480&quality=45&auto=format&fit=max&dpr=2&s=9efb934e70a26ed8caaff1f437898435″,"width":960}]}],"elementId":"70089cf8-b041-4d25-808a-afdc2fae1ae0″}],"attributes":{"pinned":false,"keyEvent":true,"summary":false},"blockCreatedOn":1660594805000,"blockCreatedOnDisplay":"21.20 BST","blockLastUpdated":1660595050000,"blockLastUpdatedDisplay":"21.24 BST","blockFirstPublished":1660594817000,"blockFirstPublishedDisplay":"21.20 BST","blockFirstPublishedDisplayNoTimezone":"21.20″,"title":"GOAL! Liverpool 1-1 Crystal Palace (Diaz 61)","contributors":[],"primaryDateLine":"Mon 15 Aug 2022 22.07 BST","secondaryDateLine":"First published on Mon 15 Aug 2022 19.00 BST"},{"id":"62faa9738f08b32cd2006e31″,"elements":[{"_type":"model.dotcomrendering.pageElements.TextBlockElement","html":"

57 min Oh my goodness! Darwin Nunez has been given a straight red card for headbutting Joachim Andersen!

","elementId":"a91b1d18-5324-4a84-af36-121dc303eec1″},{"_type":"model.dotcomrendering.pageElements.ImageBlockElement","media":{"allImages":[{"index":0,"fields":{"height":"1777″,"width":"2731″},"mediaType":"Image","mimeType":"image/jpeg","url":"https://media.guim.co.uk/5069b184e0a264bcdb8ee34479273986b7940e16/0_0_2731_1777/2731.jpg"},{"index":1,"fields":{"isMaster":"true","height":"1777″,"width":"2731″},"mediaType":"Image","mimeType":"image/jpeg","url":"https://media.guim.co.uk/5069b184e0a264bcdb8ee34479273986b7940e16/0_0_2731_1777/master/2731.jpg"},{"index":2,"fields":{"height":"1301″,"width":"2000″},"mediaType":"Image","mimeType":"image/jpeg","url":"https://media.guim.co.uk/5069b184e0a264bcdb8ee34479273986b7940e16/0_0_2731_1777/2000.jpg"},{"index":3,"fields":{"height":"651″,"width":"1000″},"mediaType":"Image","mimeType":"image/jpeg","url":"https://media.guim.co.uk/5069b184e0a264bcdb8ee34479273986b7940e16/0_0_2731_1777/1000.jpg"},{"index":4,"fields":{"height":"325″,"width":"500″},"mediaType":"Image","mimeType":"image/jpeg","url":"https://media.guim.co.uk/5069b184e0a264bcdb8ee34479273986b7940e16/0_0_2731_1777/500.jpg"},{"index":5,"fields":{"height":"91″,"width":"140″},"mediaType":"Image","mimeType":"image/jpeg","url":"https://media.guim.co.uk/5069b184e0a264bcdb8ee34479273986b7940e16/0_0_2731_1777/140.jpg"}]},"data":{"alt":"Crystal Palace's Joachim Andersen lies on the floor after being butted by Liverpool's Darwin Nunez, who is sent off.","caption":"Crystal Palace's Joachim Andersen lies on the floor after being butted by Liverpool's Darwin Nunez, who is sent off.","credit":"Photograph: Peter Powell/Reuters"},"displayCredit":true,"role":"inline","imageSources":[{"weighting":"inline","srcSet":[{"src":"https://i.guim.co.uk/img/media/5069b184e0a264bcdb8ee34479273986b7940e16/0_0_2731_1777/master/2731.jpg?width=620&quality=85&auto=format&fit=max&s=985456e58d6b479def74f793e227ed6e","width":620},{"src":"https://i.guim.co.uk/img/media/5069b184e0a264bcdb8ee34479273986b7940e16/0_0_2731_1777/master/2731.jpg?width=620&quality=45&auto=format&fit=max&dpr=2&s=9dbe64dad06616dfbd1172047de6e924″,"width":1240},{"src":"https://i.guim.co.uk/img/media/5069b184e0a264bcdb8ee34479273986b7940e16/0_0_2731_1777/master/2731.jpg?width=605&quality=85&auto=format&fit=max&s=4f3e360061daa77c25740dcceb45f3d2″,"width":605},{"src":"https://i.guim.co.uk/img/media/5069b184e0a264bcdb8ee34479273986b7940e16/0_0_2731_1777/master/2731.jpg?width=605&quality=45&auto=format&fit=max&dpr=2&s=f72a73e8e885dc8dcdebbb2fb6744653″,"width":1210},{"src":"https://i.guim.co.uk/img/media/5069b184e0a264bcdb8ee34479273986b7940e16/0_0_2731_1777/master/2731.jpg?width=445&quality=85&auto=format&fit=max&s=227fa1edbafbc0946383b58c7ad508ca","width":445},{"src":"https://i.guim.co.uk/img/media/5069b184e0a264bcdb8ee34479273986b7940e16/0_0_2731_1777/master/2731.jpg?width=445&quality=45&auto=format&fit=max&dpr=2&s=64ab25cdbb5230b2e6e20be12e2baeee","width":890}]},{"weighting":"thumbnail","srcSet":[{"src":"https://i.guim.co.uk/img/media/5069b184e0a264bcdb8ee34479273986b7940e16/0_0_2731_1777/master/2731.jpg?width=140&quality=85&auto=format&fit=max&s=f7c0eb7b109ed857b3f4eca29346e836″,"width":140},{"src":"https://i.guim.co.uk/img/media/5069b184e0a264bcdb8ee34479273986b7940e16/0_0_2731_1777/master/2731.jpg?width=140&quality=45&auto=format&fit=max&dpr=2&s=29738f6f58056b5d50f9f09e2f0f7d01″,"width":280},{"src":"https://i.guim.co.uk/img/media/5069b184e0a264bcdb8ee34479273986b7940e16/0_0_2731_1777/master/2731.jpg?width=120&quality=85&auto=format&fit=max&s=48dfb549049b594ee3c5c11ef9e71b8e","width":120},{"src":"https://i.guim.co.uk/img/media/5069b184e0a264bcdb8ee34479273986b7940e16/0_0_2731_1777/master/2731.jpg?width=120&quality=45&auto=format&fit=max&dpr=2&s=903f1628b4e59843757d629417abfa30″,"width":240}]},{"weighting":"supporting","srcSet":[{"src":"https://i.guim.co.uk/img/media/5069b184e0a264bcdb8ee34479273986b7940e16/0_0_2731_1777/master/2731.jpg?width=380&quality=85&auto=format&fit=max&s=6b35ddcf19fadcab27c8c025391c42a1″,"width":380},{"src":"https://i.guim.co.uk/img/media/5069b184e0a264bcdb8ee34479273986b7940e16/0_0_2731_1777/master/2731.jpg?width=380&quality=45&auto=format&fit=max&dpr=2&s=edf83604a8a0b5101405e22cf64a77cc","width":760},{"src":"https://i.guim.co.uk/img/media/5069b184e0a264bcdb8ee34479273986b7940e16/0_0_2731_1777/master/2731.jpg?width=300&quality=85&auto=format&fit=max&s=dc17d6e5ed1b58757cf5641d0b6d1498″,"width":300},{"src":"https://i.guim.co.uk/img/media/5069b184e0a264bcdb8ee34479273986b7940e16/0_0_2731_1777/master/2731.jpg?width=300&quality=45&auto=format&fit=max&dpr=2&s=8c197d90d1c762bf334a95816be5f8c9″,"width":600},{"src":"https://i.guim.co.uk/img/media/5069b184e0a264bcdb8ee34479273986b7940e16/0_0_2731_1777/master/2731.jpg?width=620&quality=85&auto=format&fit=max&s=985456e58d6b479def74f793e227ed6e","width":620},{"src":"https://i.guim.co.uk/img/media/5069b184e0a264bcdb8ee34479273986b7940e16/0_0_2731_1777/master/2731.jpg?width=620&quality=45&auto=format&fit=max&dpr=2&s=9dbe64dad06616dfbd1172047de6e924″,"width":1240},{"src":"https://i.guim.co.uk/img/media/5069b184e0a264bcdb8ee34479273986b7940e16/0_0_2731_1777/master/2731.jpg?width=605&quality=85&auto=format&fit=max&s=4f3e360061daa77c25740dcceb45f3d2″,"width":605},{"src":"https://i.guim.co.uk/img/media/5069b184e0a264bcdb8ee34479273986b7940e16/0_0_2731_1777/master/2731.jpg?width=605&quality=45&auto=format&fit=max&dpr=2&s=f72a73e8e885dc8dcdebbb2fb6744653″,"width":1210},{"src":"https://i.guim.co.uk/img/media/5069b184e0a264bcdb8ee34479273986b7940e16/0_0_2731_1777/master/2731.jpg?width=445&quality=85&auto=format&fit=max&s=227fa1edbafbc0946383b58c7ad508ca","width":445},{"src":"https://i.guim.co.uk/img/media/5069b184e0a264bcdb8ee34479273986b7940e16/0_0_2731_1777/master/2731.jpg?width=445&quality=45&auto=format&fit=max&dpr=2&s=64ab25cdbb5230b2e6e20be12e2baeee","width":890}]},{"weighting":"showcase","srcSet":[{"src":"https://i.guim.co.uk/img/media/5069b184e0a264bcdb8ee34479273986b7940e16/0_0_2731_1777/master/2731.jpg?width=860&quality=85&auto=format&fit=max&s=8a532d4e3de0262d61eb23ad8e4d420c","width":860},{"src":"https://i.guim.co.uk/img/media/5069b184e0a264bcdb8ee34479273986b7940e16/0_0_2731_1777/master/2731.jpg?width=860&quality=45&auto=format&fit=max&dpr=2&s=7ee231e778c491e2847b3eb06c1a9b4f","width":1720},{"src":"https://i.guim.co.uk/img/media/5069b184e0a264bcdb8ee34479273986b7940e16/0_0_2731_1777/master/2731.jpg?width=780&quality=85&auto=format&fit=max&s=01daaf11b9f87b5e4e64b460b3258152″,"width":780},{"src":"https://i.guim.co.uk/img/media/5069b184e0a264bcdb8ee34479273986b7940e16/0_0_2731_1777/master/2731.jpg?width=780&quality=45&auto=format&fit=max&dpr=2&s=08e8d3e17b016a4254b63e03ce7d75fa","width":1560},{"src":"https://i.guim.co.uk/img/media/5069b184e0a264bcdb8ee34479273986b7940e16/0_0_2731_1777/master/2731.jpg?width=620&quality=85&auto=format&fit=max&s=985456e58d6b479def74f793e227ed6e","width":620},{"src":"https://i.guim.co.uk/img/media/5069b184e0a264bcdb8ee34479273986b7940e16/0_0_2731_1777/master/2731.jpg?width=620&quality=45&auto=format&fit=max&dpr=2&s=9dbe64dad06616dfbd1172047de6e924″,"width":1240},{"src":"https://i.guim.co.uk/img/media/5069b184e0a264bcdb8ee34479273986b7940e16/0_0_2731_1777/master/2731.jpg?width=605&quality=85&auto=format&fit=max&s=4f3e360061daa77c25740dcceb45f3d2″,"width":605},{"src":"https://i.guim.co.uk/img/media/5069b184e0a264bcdb8ee34479273986b7940e16/0_0_2731_1777/master/2731.jpg?width=605&quality=45&auto=format&fit=max&dpr=2&s=f72a73e8e885dc8dcdebbb2fb6744653″,"width":1210},{"src":"https://i.guim.co.uk/img/media/5069b184e0a264bcdb8ee34479273986b7940e16/0_0_2731_1777/master/2731.jpg?width=445&quality=85&auto=format&fit=max&s=227fa1edbafbc0946383b58c7ad508ca","width":445},{"src":"https://i.guim.co.uk/img/media/5069b184e0a264bcdb8ee34479273986b7940e16/0_0_2731_1777/master/2731.jpg?width=445&quality=45&auto=format&fit=max&dpr=2&s=64ab25cdbb5230b2e6e20be12e2baeee","width":890}]},{"weighting":"halfwidth","srcSet":[{"src":"https://i.guim.co.uk/img/media/5069b184e0a264bcdb8ee34479273986b7940e16/0_0_2731_1777/master/2731.jpg?width=620&quality=85&auto=format&fit=max&s=985456e58d6b479def74f793e227ed6e","width":620},{"src":"https://i.guim.co.uk/img/media/5069b184e0a264bcdb8ee34479273986b7940e16/0_0_2731_1777/master/2731.jpg?width=620&quality=45&auto=format&fit=max&dpr=2&s=9dbe64dad06616dfbd1172047de6e924″,"width":1240},{"src":"https://i.guim.co.uk/img/media/5069b184e0a264bcdb8ee34479273986b7940e16/0_0_2731_1777/master/2731.jpg?width=605&quality=85&auto=format&fit=max&s=4f3e360061daa77c25740dcceb45f3d2″,"width":605},{"src":"https://i.guim.co.uk/img/media/5069b184e0a264bcdb8ee34479273986b7940e16/0_0_2731_1777/master/2731.jpg?width=605&quality=45&auto=format&fit=max&dpr=2&s=f72a73e8e885dc8dcdebbb2fb6744653″,"width":1210},{"src":"https://i.guim.co.uk/img/media/5069b184e0a264bcdb8ee34479273986b7940e16/0_0_2731_1777/master/2731.jpg?width=445&quality=85&auto=format&fit=max&s=227fa1edbafbc0946383b58c7ad508ca","width":445},{"src":"https://i.guim.co.uk/img/media/5069b184e0a264bcdb8ee34479273986b7940e16/0_0_2731_1777/master/2731.jpg?width=445&quality=45&auto=format&fit=max&dpr=2&s=64ab25cdbb5230b2e6e20be12e2baeee","width":890}]},{"weighting":"immersive","srcSet":[{"src":"https://i.guim.co.uk/img/media/5069b184e0a264bcdb8ee34479273986b7940e16/0_0_2731_1777/master/2731.jpg?width=1900&quality=85&auto=format&fit=max&s=2704f7ddae94a593ef151e080b01cc9c","width":1900},{"src":"https://i.guim.co.uk/img/media/5069b184e0a264bcdb8ee34479273986b7940e16/0_0_2731_1777/master/2731.jpg?width=1900&quality=45&auto=format&fit=max&dpr=2&s=d46c62236105930617907e4f016774e1″,"width":3800},{"src":"https://i.guim.co.uk/img/media/5069b184e0a264bcdb8ee34479273986b7940e16/0_0_2731_1777/master/2731.jpg?width=1300&quality=85&auto=format&fit=max&s=a7c8f8c87c9509439b543bed5dd92ee4″,"width":1300},{"src":"https://i.guim.co.uk/img/media/5069b184e0a264bcdb8ee34479273986b7940e16/0_0_2731_1777/master/2731.jpg?width=1300&quality=45&auto=format&fit=max&dpr=2&s=b7ac870416cbbb97aed4ebc6ecdd3592″,"width":2600},{"src":"https://i.guim.co.uk/img/media/5069b184e0a264bcdb8ee34479273986b7940e16/0_0_2731_1777/master/2731.jpg?width=1140&quality=85&auto=format&fit=max&s=1158fb4e6e312484ed9a6ee5b717ec22″,"width":1140},{"src":"https://i.guim.co.uk/img/media/5069b184e0a264bcdb8ee34479273986b7940e16/0_0_2731_1777/master/2731.jpg?width=1140&quality=45&auto=format&fit=max&dpr=2&s=5be2b1ba4881b4f6c582540a608644e4″,"width":2280},{"src":"https://i.guim.co.uk/img/media/5069b184e0a264bcdb8ee34479273986b7940e16/0_0_2731_1777/master/2731.jpg?width=980&quality=85&auto=format&fit=max&s=be18fa9d39a890d5a34e5ab453738a8f","width":980},{"src":"https://i.guim.co.uk/img/media/5069b184e0a264bcdb8ee34479273986b7940e16/0_0_2731_1777/master/2731.jpg?width=980&quality=45&auto=format&fit=max&dpr=2&s=7e77b7452762e1531fc2cd480b8d417a","width":1960},{"src":"https://i.guim.co.uk/img/media/5069b184e0a264bcdb8ee34479273986b7940e16/0_0_2731_1777/master/2731.jpg?width=740&quality=85&auto=format&fit=max&s=1a933b65374e962e619b8e8cb6e52873″,"width":740},{"src":"https://i.guim.co.uk/img/media/5069b184e0a264bcdb8ee34479273986b7940e16/0_0_2731_1777/master/2731.jpg?width=740&quality=45&auto=format&fit=max&dpr=2&s=7eabc732cbcae7f1ec045e211e1a84e8″,"width":1480},{"src":"https://i.guim.co.uk/img/media/5069b184e0a264bcdb8ee34479273986b7940e16/0_0_2731_1777/master/2731.jpg?width=660&quality=85&auto=format&fit=max&s=88c491526241719a2acbe31e481945c7″,"width":660},{"src":"https://i.guim.co.uk/img/media/5069b184e0a264bcdb8ee34479273986b7940e16/0_0_2731_1777/master/2731.jpg?width=660&quality=45&auto=format&fit=max&dpr=2&s=540f9ed1c7668625ea26376fad3e5a48″,"width":1320},{"src":"https://i.guim.co.uk/img/media/5069b184e0a264bcdb8ee34479273986b7940e16/0_0_2731_1777/master/2731.jpg?width=480&quality=85&auto=format&fit=max&s=c566d0ccb3ce3c4f2f705ab7799ef557″,"width":480},{"src":"https://i.guim.co.uk/img/media/5069b184e0a264bcdb8ee34479273986b7940e16/0_0_2731_1777/master/2731.jpg?width=480&quality=45&auto=format&fit=max&dpr=2&s=f88b10958ca1312bc1fadabb082ab059″,"width":960}]}],"elementId":"17f5d989-9b0b-4350-abe7-6f8cf2fc4b19″}],"attributes":{"pinned":false,"keyEvent":true,"summary":false},"blockCreatedOn":1660594547000,"blockCreatedOnDisplay":"21.15 BST","blockLastUpdated":1660594922000,"blockLastUpdatedDisplay":"21.22 BST","blockFirstPublished":1660594585000,"blockFirstPublishedDisplay":"21.16 BST","blockFirstPublishedDisplayNoTimezone":"21.16″,"title":"NUNEZ SENT OFF!","contributors":[],"primaryDateLine":"Mon 15 Aug 2022 22.07 BST","secondaryDateLine":"First published on Mon 15 Aug 2022 19.00 BST"},{"id":"62faa2848f08e57f94554dba","elements":[{"_type":"model.dotcomrendering.pageElements.TextBlockElement","html":"

This is an absurd thing to say in mid-August, arguably a sackable offence, but Liverpool have a big 45 minutes coming up. If they lose they will already be five points behind Manchester City, and that's never a good place for anyone to be.

","elementId":"3c429cf5-d847-45f9-b764-503b20bf4b39″},{"_type":"model.dotcomrendering.pageElements.TextBlockElement","html":"

Liverpool started well, with their usual intensity, but missed a few decent chances and were punished by Wilfred Zaha's excellent counter-attacking goal. The place went a bit flat after that, though Darwin Nunez hit the post with the last attack of the half.

","elementId":"b016032f-f172-46ac-abca-be6f9df0bb0a"}],"attributes":{"pinned":false,"keyEvent":true,"summary":false},"blockCreatedOn":1660592772000,"blockCreatedOnDisplay":"20.46 BST","blockLastUpdated":1660593020000,"blockLastUpdatedDisplay":"20.50 BST","blockFirstPublished":1660593021000,"blockFirstPublishedDisplay":"20.50 BST","blockFirstPublishedDisplayNoTimezone":"20.50″,"title":"Half time: Liverpool 0-1 Crystal Palace","contributors":[],"primaryDateLine":"Mon 15 Aug 2022 22.07 BST","secondaryDateLine":"First published on Mon 15 Aug 2022 19.00 BST"},{"id":"62fa9f468f08b32cd2006e00″,"elements":[{"_type":"model.dotcomrendering.pageElements.TextBlockElement","html":"

Wilfred Zaha gives Palace the lead with a superb goal!

","elementId":"1bf44792-e9c8-400c-a6fd-0ac741b394ae"},{"_type":"model.dotcomrendering.pageElements.ImageBlockElement","media":{"allImages":[{"index":0,"fields":{"height":"1923″,"width":"3203″},"mediaType":"Image","mimeType":"image/jpeg","url":"https://media.guim.co.uk/cb1716cb655eb3f27ea22feaaceaba25c5484074/0_21_3203_1923/3203.jpg"},{"index":1,"fields":{"isMaster":"true","height":"1923″,"width":"3203″},"mediaType":"Image","mimeType":"image/jpeg","url":"https://media.guim.co.uk/cb1716cb655eb3f27ea22feaaceaba25c5484074/0_21_3203_1923/master/3203.jpg"},{"index":2,"fields":{"height":"1200″,"width":"2000″},"mediaType":"Image","mimeType":"image/jpeg","url":"https://media.guim.co.uk/cb1716cb655eb3f27ea22feaaceaba25c5484074/0_21_3203_1923/2000.jpg"},{"index":3,"fields":{"height":"600″,"width":"1000″},"mediaType":"Image","mimeType":"image/jpeg","url":"https://media.guim.co.uk/cb1716cb655eb3f27ea22feaaceaba25c5484074/0_21_3203_1923/1000.jpg"},{"index":4,"fields":{"height":"300″,"width":"500″},"mediaType":"Image","mimeType":"image/jpeg","url":"https://media.guim.co.uk/cb1716cb655eb3f27ea22feaaceaba25c5484074/0_21_3203_1923/500.jpg"},{"index":5,"fields":{"height":"84″,"width":"140″},"mediaType":"Image","mimeType":"image/jpeg","url":"https://media.guim.co.uk/cb1716cb655eb3f27ea22feaaceaba25c5484074/0_21_3203_1923/140.jpg"}]},"data":{"alt":"Wilfried Zaha of Crystal Palace scores their first goal past Alisson Becker of Liverpool.","caption":"Wilfried Zaha of Crystal Palace scores their first goal past Alisson Becker of Liverpool.","credit":"Photograph: Clive Brunskill/Getty Images"},"displayCredit":true,"role":"inline","imageSources":[{"weighting":"inline","srcSet":[{"src":"https://i.guim.co.uk/img/media/cb1716cb655eb3f27ea22feaaceaba25c5484074/0_21_3203_1923/master/3203.jpg?width=620&quality=85&auto=format&fit=max&s=ff322d9e425d111edb0b26f24e7538cb","width":620},{"src":"https://i.guim.co.uk/img/media/cb1716cb655eb3f27ea22feaaceaba25c5484074/0_21_3203_1923/master/3203.jpg?width=620&quality=45&auto=format&fit=max&dpr=2&s=e480e5a55d90f2890e50cb575f0b8b81″,"width":1240},{"src":"https://i.guim.co.uk/img/media/cb1716cb655eb3f27ea22feaaceaba25c5484074/0_21_3203_1923/master/3203.jpg?width=605&quality=85&auto=format&fit=max&s=b6b3212885160df09dfcf5267ada0991″,"width":605},{"src":"https://i.guim.co.uk/img/media/cb1716cb655eb3f27ea22feaaceaba25c5484074/0_21_3203_1923/master/3203.jpg?width=605&quality=45&auto=format&fit=max&dpr=2&s=3e9ee291d2af2e06a538fc8a2a863bd0″,"width":1210},{"src":"https://i.guim.co.uk/img/media/cb1716cb655eb3f27ea22feaaceaba25c5484074/0_21_3203_1923/master/3203.jpg?width=445&quality=85&auto=format&fit=max&s=feff382c294204c21dfa7c7f61d78d68″,"width":445},{"src":"https://i.guim.co.uk/img/media/cb1716cb655eb3f27ea22feaaceaba25c5484074/0_21_3203_1923/master/3203.jpg?width=445&quality=45&auto=format&fit=max&dpr=2&s=2547cf51f9134dc4dc961b687a0bb94f","width":890}]},{"weighting":"thumbnail","srcSet":[{"src":"https://i.guim.co.uk/img/media/cb1716cb655eb3f27ea22feaaceaba25c5484074/0_21_3203_1923/master/3203.jpg?width=140&quality=85&auto=format&fit=max&s=9d5553634c7bd5ee05faa87ea0cfe6e8″,"width":140},{"src":"https://i.guim.co.uk/img/media/cb1716cb655eb3f27ea22feaaceaba25c5484074/0_21_3203_1923/master/3203.jpg?width=140&quality=45&auto=format&fit=max&dpr=2&s=7e4041d43b357dfcf11823f1bc07ebc0″,"width":280},{"src":"https://i.guim.co.uk/img/media/cb1716cb655eb3f27ea22feaaceaba25c5484074/0_21_3203_1923/master/3203.jpg?width=120&quality=85&auto=format&fit=max&s=20221a6340f4e005e33aafc24f505c2d","width":120},{"src":"https://i.guim.co.uk/img/media/cb1716cb655eb3f27ea22feaaceaba25c5484074/0_21_3203_1923/master/3203.jpg?width=120&quality=45&auto=format&fit=max&dpr=2&s=fdce16d38f9c60157c65f2112060880d","width":240}]},{"weighting":"supporting","srcSet":[{"src":"https://i.guim.co.uk/img/media/cb1716cb655eb3f27ea22feaaceaba25c5484074/0_21_3203_1923/master/3203.jpg?width=380&quality=85&auto=format&fit=max&s=b4ca12d4bc4dfc36ee8befc52fef2866″,"width":380},{"src":"https://i.guim.co.uk/img/media/cb1716cb655eb3f27ea22feaaceaba25c5484074/0_21_3203_1923/master/3203.jpg?width=380&quality=45&auto=format&fit=max&dpr=2&s=67757be9b62739afa8c4f230b722c403″,"width":760},{"src":"https://i.guim.co.uk/img/media/cb1716cb655eb3f27ea22feaaceaba25c5484074/0_21_3203_1923/master/3203.jpg?width=300&quality=85&auto=format&fit=max&s=b8e97c773688b2fb04b2cbb7693576c2″,"width":300},{"src":"https://i.guim.co.uk/img/media/cb1716cb655eb3f27ea22feaaceaba25c5484074/0_21_3203_1923/master/3203.jpg?width=300&quality=45&auto=format&fit=max&dpr=2&s=70d786e4394430bc689504a04b20083c","width":600},{"src":"https://i.guim.co.uk/img/media/cb1716cb655eb3f27ea22feaaceaba25c5484074/0_21_3203_1923/master/3203.jpg?width=620&quality=85&auto=format&fit=max&s=ff322d9e425d111edb0b26f24e7538cb","width":620},{"src":"https://i.guim.co.uk/img/media/cb1716cb655eb3f27ea22feaaceaba25c5484074/0_21_3203_1923/master/3203.jpg?width=620&quality=45&auto=format&fit=max&dpr=2&s=e480e5a55d90f2890e50cb575f0b8b81″,"width":1240},{"src":"https://i.guim.co.uk/img/media/cb1716cb655eb3f27ea22feaaceaba25c5484074/0_21_3203_1923/master/3203.jpg?width=605&quality=85&auto=format&fit=max&s=b6b3212885160df09dfcf5267ada0991″,"width":605},{"src":"https://i.guim.co.uk/img/media/cb1716cb655eb3f27ea22feaaceaba25c5484074/0_21_3203_1923/master/3203.jpg?width=605&quality=45&auto=format&fit=max&dpr=2&s=3e9ee291d2af2e06a538fc8a2a863bd0″,"width":1210},{"src":"https://i.guim.co.uk/img/media/cb1716cb655eb3f27ea22feaaceaba25c5484074/0_21_3203_1923/master/3203.jpg?width=445&quality=85&auto=format&fit=max&s=feff382c294204c21dfa7c7f61d78d68″,"width":445},{"src":"https://i.guim.co.uk/img/media/cb1716cb655eb3f27ea22feaaceaba25c5484074/0_21_3203_1923/master/3203.jpg?width=445&quality=45&auto=format&fit=max&dpr=2&s=2547cf51f9134dc4dc961b687a0bb94f","width":890}]},{"weighting":"showcase","srcSet":[{"src":"https://i.guim.co.uk/img/media/cb1716cb655eb3f27ea22feaaceaba25c5484074/0_21_3203_1923/master/3203.jpg?width=860&quality=85&auto=format&fit=max&s=1185f6ecb8c347f09727ba9396fcd4d0″,"width":860},{"src":"https://i.guim.co.uk/img/media/cb1716cb655eb3f27ea22feaaceaba25c5484074/0_21_3203_1923/master/3203.jpg?width=860&quality=45&auto=format&fit=max&dpr=2&s=fdc1ddf32c72cbbe94245bd7bf0fdbae","width":1720},{"src":"https://i.guim.co.uk/img/media/cb1716cb655eb3f27ea22feaaceaba25c5484074/0_21_3203_1923/master/3203.jpg?width=780&quality=85&auto=format&fit=max&s=d5df53d63aacaa47e6225a4609c68afc","width":780},{"src":"https://i.guim.co.uk/img/media/cb1716cb655eb3f27ea22feaaceaba25c5484074/0_21_3203_1923/master/3203.jpg?width=780&quality=45&auto=format&fit=max&dpr=2&s=ebb477b76e435e4f060e52527b2ccf42″,"width":1560},{"src":"https://i.guim.co.uk/img/media/cb1716cb655eb3f27ea22feaaceaba25c5484074/0_21_3203_1923/master/3203.jpg?width=620&quality=85&auto=format&fit=max&s=ff322d9e425d111edb0b26f24e7538cb","width":620},{"src":"https://i.guim.co.uk/img/media/cb1716cb655eb3f27ea22feaaceaba25c5484074/0_21_3203_1923/master/3203.jpg?width=620&quality=45&auto=format&fit=max&dpr=2&s=e480e5a55d90f2890e50cb575f0b8b81″,"width":1240},{"src":"https://i.guim.co.uk/img/media/cb1716cb655eb3f27ea22feaaceaba25c5484074/0_21_3203_1923/master/3203.jpg?width=605&quality=85&auto=format&fit=max&s=b6b3212885160df09dfcf5267ada0991″,"width":605},{"src":"https://i.guim.co.uk/img/media/cb1716cb655eb3f27ea22feaaceaba25c5484074/0_21_3203_1923/master/3203.jpg?width=605&quality=45&auto=format&fit=max&dpr=2&s=3e9ee291d2af2e06a538fc8a2a863bd0″,"width":1210},{"src":"https://i.guim.co.uk/img/media/cb1716cb655eb3f27ea22feaaceaba25c5484074/0_21_3203_1923/master/3203.jpg?width=445&quality=85&auto=format&fit=max&s=feff382c294204c21dfa7c7f61d78d68″,"width":445},{"src":"https://i.guim.co.uk/img/media/cb1716cb655eb3f27ea22feaaceaba25c5484074/0_21_3203_1923/master/3203.jpg?width=445&quality=45&auto=format&fit=max&dpr=2&s=2547cf51f9134dc4dc961b687a0bb94f","width":890}]},{"weighting":"halfwidth","srcSet":[{"src":"https://i.guim.co.uk/img/media/cb1716cb655eb3f27ea22feaaceaba25c5484074/0_21_3203_1923/master/3203.jpg?width=620&quality=85&auto=format&fit=max&s=ff322d9e425d111edb0b26f24e7538cb","width":620},{"src":"https://i.guim.co.uk/img/media/cb1716cb655eb3f27ea22feaaceaba25c5484074/0_21_3203_1923/master/3203.jpg?width=620&quality=45&auto=format&fit=max&dpr=2&s=e480e5a55d90f2890e50cb575f0b8b81″,"width":1240},{"src":"https://i.guim.co.uk/img/media/cb1716cb655eb3f27ea22feaaceaba25c5484074/0_21_3203_1923/master/3203.jpg?width=605&quality=85&auto=format&fit=max&s=b6b3212885160df09dfcf5267ada0991″,"width":605},{"src":"https://i.guim.co.uk/img/media/cb1716cb655eb3f27ea22feaaceaba25c5484074/0_21_3203_1923/master/3203.jpg?width=605&quality=45&auto=format&fit=max&dpr=2&s=3e9ee291d2af2e06a538fc8a2a863bd0″,"width":1210},{"src":"https://i.guim.co.uk/img/media/cb1716cb655eb3f27ea22feaaceaba25c5484074/0_21_3203_1923/master/3203.jpg?width=445&quality=85&auto=format&fit=max&s=feff382c294204c21dfa7c7f61d78d68″,"width":445},{"src":"https://i.guim.co.uk/img/media/cb1716cb655eb3f27ea22feaaceaba25c5484074/0_21_3203_1923/master/3203.jpg?width=445&quality=45&auto=format&fit=max&dpr=2&s=2547cf51f9134dc4dc961b687a0bb94f","width":890}]},{"weighting":"immersive","srcSet":[{"src":"https://i.guim.co.uk/img/media/cb1716cb655eb3f27ea22feaaceaba25c5484074/0_21_3203_1923/master/3203.jpg?width=1900&quality=85&auto=format&fit=max&s=342f7245503fc045325b69f3d7c04e43″,"width":1900},{"src":"https://i.guim.co.uk/img/media/cb1716cb655eb3f27ea22feaaceaba25c5484074/0_21_3203_1923/master/3203.jpg?width=1900&quality=45&auto=format&fit=max&dpr=2&s=544399a3ff45e5d78e581056ef54d8ea","width":3800},{"src":"https://i.guim.co.uk/img/media/cb1716cb655eb3f27ea22feaaceaba25c5484074/0_21_3203_1923/master/3203.jpg?width=1300&quality=85&auto=format&fit=max&s=36d2705bffc0bb8ff8af31e4c1132d5c","width":1300},{"src":"https://i.guim.co.uk/img/media/cb1716cb655eb3f27ea22feaaceaba25c5484074/0_21_3203_1923/master/3203.jpg?width=1300&quality=45&auto=format&fit=max&dpr=2&s=583965ccc703d28338515b36c4f2a6a8″,"width":2600},{"src":"https://i.guim.co.uk/img/media/cb1716cb655eb3f27ea22feaaceaba25c5484074/0_21_3203_1923/master/3203.jpg?width=1140&quality=85&auto=format&fit=max&s=11ae0266a3f9198ec630644c912c9011″,"width":1140},{"src":"https://i.guim.co.uk/img/media/cb1716cb655eb3f27ea22feaaceaba25c5484074/0_21_3203_1923/master/3203.jpg?width=1140&quality=45&auto=format&fit=max&dpr=2&s=d090b01efbd0be675037e36e879aff04″,"width":2280},{"src":"https://i.guim.co.uk/img/media/cb1716cb655eb3f27ea22feaaceaba25c5484074/0_21_3203_1923/master/3203.jpg?width=980&quality=85&auto=format&fit=max&s=6710a73cab1300296860ce27600fd3b7″,"width":980},{"src":"https://i.guim.co.uk/img/media/cb1716cb655eb3f27ea22feaaceaba25c5484074/0_21_3203_1923/master/3203.jpg?width=980&quality=45&auto=format&fit=max&dpr=2&s=d440bc03a3a87a93f1afa6a41d70ae42″,"width":1960},{"src":"https://i.guim.co.uk/img/media/cb1716cb655eb3f27ea22feaaceaba25c5484074/0_21_3203_1923/master/3203.jpg?width=740&quality=85&auto=format&fit=max&s=2a03d0d312d9b2ece22da4dbaae76a53″,"width":740},{"src":"https://i.guim.co.uk/img/media/cb1716cb655eb3f27ea22feaaceaba25c5484074/0_21_3203_1923/master/3203.jpg?width=740&quality=45&auto=format&fit=max&dpr=2&s=9eb9df91ce21c9dd8f32276b04599939″,"width":1480},{"src":"https://i.guim.co.uk/img/media/cb1716cb655eb3f27ea22feaaceaba25c5484074/0_21_3203_1923/master/3203.jpg?width=660&quality=85&auto=format&fit=max&s=be7edb7ef6b596c124ecbec1926ae2c9″,"width":660},{"src":"https://i.guim.co.uk/img/media/cb1716cb655eb3f27ea22feaaceaba25c5484074/0_21_3203_1923/master/3203.jpg?width=660&quality=45&auto=format&fit=max&dpr=2&s=36f1dfa35fbe725b18c5910438d73c8b","width":1320},{"src":"https://i.guim.co.uk/img/media/cb1716cb655eb3f27ea22feaaceaba25c5484074/0_21_3203_1923/master/3203.jpg?width=480&quality=85&auto=format&fit=max&s=dde14f91d9e1893045bd47e05636f2af","width":480},{"src":"https://i.guim.co.uk/img/media/cb1716cb655eb3f27ea22feaaceaba25c5484074/0_21_3203_1923/master/3203.jpg?width=480&quality=45&auto=format&fit=max&dpr=2&s=4698600d4ef18875d02813b9eae5b077″,"width":960}]}],"elementId":"7fb2032e-46ab-4a78-95c4-9180325f61f9″},{"_type":"model.dotcomrendering.pageElements.ImageBlockElement","media":{"allImages":[{"index":0,"fields":{"height":"3135″,"width":"4703″},"mediaType":"Image","mimeType":"image/jpeg","url":"https://media.guim.co.uk/66e792026929053e6f9d4821c085ac68f9adfbf8/0_0_4703_3135/4703.jpg"},{"index":1,"fields":{"isMaster":"true","height":"3135″,"width":"4703″},"mediaType":"Image","mimeType":"image/jpeg","url":"https://media.guim.co.uk/66e792026929053e6f9d4821c085ac68f9adfbf8/0_0_4703_3135/master/4703.jpg"},{"index":2,"fields":{"height":"1333″,"width":"2000″},"mediaType":"Image","mimeType":"image/jpeg","url":"https://media.guim.co.uk/66e792026929053e6f9d4821c085ac68f9adfbf8/0_0_4703_3135/2000.jpg"},{"index":3,"fields":{"height":"667″,"width":"1000″},"mediaType":"Image","mimeType":"image/jpeg","url":"https://media.guim.co.uk/66e792026929053e6f9d4821c085ac68f9adfbf8/0_0_4703_3135/1000.jpg"},{"index":4,"fields":{"height":"333″,"width":"500″},"mediaType":"Image","mimeType":"image/jpeg","url":"https://media.guim.co.uk/66e792026929053e6f9d4821c085ac68f9adfbf8/0_0_4703_3135/500.jpg"},{"index":5,"fields":{"height":"93″,"width":"140″},"mediaType":"Image","mimeType":"image/jpeg","url":"https://media.guim.co.uk/66e792026929053e6f9d4821c085ac68f9adfbf8/0_0_4703_3135/140.jpg"}]},"data":{"alt":"Zaha leaps into the air in celebration.","caption":"Zaha leaps into the air in celebration.","credit":"Photograph: Paul Greenwood/REX/Shutterstock"},"displayCredit":true,"role":"inline","imageSources":[{"weighting":"inline","srcSet":[{"src":"https://i.guim.co.uk/img/media/66e792026929053e6f9d4821c085ac68f9adfbf8/0_0_4703_3135/master/4703.jpg?width=620&quality=85&auto=format&fit=max&s=3927572fac1939966d379e85d3cae388″,"width":620},{"src":"https://i.guim.co.uk/img/media/66e792026929053e6f9d4821c085ac68f9adfbf8/0_0_4703_3135/master/4703.jpg?width=620&quality=45&auto=format&fit=max&dpr=2&s=3f6d55f5ed2e62161fb2be657559dee0″,"width":1240},{"src":"https://i.guim.co.uk/img/media/66e792026929053e6f9d4821c085ac68f9adfbf8/0_0_4703_3135/master/4703.jpg?width=605&quality=85&auto=format&fit=max&s=0baaee32bba5f08f70d4e91bb147dc8a","width":605},{"src":"https://i.guim.co.uk/img/media/66e792026929053e6f9d4821c085ac68f9adfbf8/0_0_4703_3135/master/4703.jpg?width=605&quality=45&auto=format&fit=max&dpr=2&s=e6656146e01180072c39abb60c1543aa","width":1210},{"src":"https://i.guim.co.uk/img/media/66e792026929053e6f9d4821c085ac68f9adfbf8/0_0_4703_3135/master/4703.jpg?width=445&quality=85&auto=format&fit=max&s=fcb94e47722eb6c2858bfa00faadec6d","width":445},{"src":"https://i.guim.co.uk/img/media/66e792026929053e6f9d4821c085ac68f9adfbf8/0_0_4703_3135/master/4703.jpg?width=445&quality=45&auto=format&fit=max&dpr=2&s=8df44d65ab3f27266deee31b3f2db020″,"width":890}]},{"weighting":"thumbnail","srcSet":[{"src":"https://i.guim.co.uk/img/media/66e792026929053e6f9d4821c085ac68f9adfbf8/0_0_4703_3135/master/4703.jpg?width=140&quality=85&auto=format&fit=max&s=af160d1adbde067bd2defa1b36d9f6a0″,"width":140},{"src":"https://i.guim.co.uk/img/media/66e792026929053e6f9d4821c085ac68f9adfbf8/0_0_4703_3135/master/4703.jpg?width=140&quality=45&auto=format&fit=max&dpr=2&s=728c98aee4878dc0bc1e25108dfd4679″,"width":280},{"src":"https://i.guim.co.uk/img/media/66e792026929053e6f9d4821c085ac68f9adfbf8/0_0_4703_3135/master/4703.jpg?width=120&quality=85&auto=format&fit=max&s=7f4b21150ccbee9458056ff55e82a361″,"width":120},{"src":"https://i.guim.co.uk/img/media/66e792026929053e6f9d4821c085ac68f9adfbf8/0_0_4703_3135/master/4703.jpg?width=120&quality=45&auto=format&fit=max&dpr=2&s=7ceb8c3633393274f259dcf079474667″,"width":240}]},{"weighting":"supporting","srcSet":[{"src":"https://i.guim.co.uk/img/media/66e792026929053e6f9d4821c085ac68f9adfbf8/0_0_4703_3135/master/4703.jpg?width=380&quality=85&auto=format&fit=max&s=0061b0d75080513a6348770c284ba391″,"width":380},{"src":"https://i.guim.co.uk/img/media/66e792026929053e6f9d4821c085ac68f9adfbf8/0_0_4703_3135/master/4703.jpg?width=380&quality=45&auto=format&fit=max&dpr=2&s=c77fb1a0021dd2a1fd5b43509672781c","width":760},{"src":"https://i.guim.co.uk/img/media/66e792026929053e6f9d4821c085ac68f9adfbf8/0_0_4703_3135/master/4703.jpg?width=300&quality=85&auto=format&fit=max&s=017880997d278acb0a1228a74174ba2d","width":300},{"src":"https://i.guim.co.uk/img/media/66e792026929053e6f9d4821c085ac68f9adfbf8/0_0_4703_3135/master/4703.jpg?width=300&quality=45&auto=format&fit=max&dpr=2&s=9e7920f78fb567e5253230e0d544efea","width":600},{"src":"https://i.guim.co.uk/img/media/66e792026929053e6f9d4821c085ac68f9adfbf8/0_0_4703_3135/master/4703.jpg?width=620&quality=85&auto=format&fit=max&s=3927572fac1939966d379e85d3cae388″,"width":620},{"src":"https://i.guim.co.uk/img/media/66e792026929053e6f9d4821c085ac68f9adfbf8/0_0_4703_3135/master/4703.jpg?width=620&quality=45&auto=format&fit=max&dpr=2&s=3f6d55f5ed2e62161fb2be657559dee0″,"width":1240},{"src":"https://i.guim.co.uk/img/media/66e792026929053e6f9d4821c085ac68f9adfbf8/0_0_4703_3135/master/4703.jpg?width=605&quality=85&auto=format&fit=max&s=0baaee32bba5f08f70d4e91bb147dc8a","width":605},{"src":"https://i.guim.co.uk/img/media/66e792026929053e6f9d4821c085ac68f9adfbf8/0_0_4703_3135/master/4703.jpg?width=605&quality=45&auto=format&fit=max&dpr=2&s=e6656146e01180072c39abb60c1543aa","width":1210},{"src":"https://i.guim.co.uk/img/media/66e792026929053e6f9d4821c085ac68f9adfbf8/0_0_4703_3135/master/4703.jpg?width=445&quality=85&auto=format&fit=max&s=fcb94e47722eb6c2858bfa00faadec6d","width":445},{"src":"https://i.guim.co.uk/img/media/66e792026929053e6f9d4821c085ac68f9adfbf8/0_0_4703_3135/master/4703.jpg?width=445&quality=45&auto=format&fit=max&dpr=2&s=8df44d65ab3f27266deee31b3f2db020″,"width":890}]},{"weighting":"showcase","srcSet":[{"src":"https://i.guim.co.uk/img/media/66e792026929053e6f9d4821c085ac68f9adfbf8/0_0_4703_3135/master/4703.jpg?width=860&quality=85&auto=format&fit=max&s=e725abe917c5f3f23f879db2c2602b3f","width":860},{"src":"https://i.guim.co.uk/img/media/66e792026929053e6f9d4821c085ac68f9adfbf8/0_0_4703_3135/master/4703.jpg?width=860&quality=45&auto=format&fit=max&dpr=2&s=23c2b2ea5f82b459ae42d50017051d94″,"width":1720},{"src":"https://i.guim.co.uk/img/media/66e792026929053e6f9d4821c085ac68f9adfbf8/0_0_4703_3135/master/4703.jpg?width=780&quality=85&auto=format&fit=max&s=4d35ee49190c6045d0b09efe9d442c4e","width":780},{"src":"https://i.guim.co.uk/img/media/66e792026929053e6f9d4821c085ac68f9adfbf8/0_0_4703_3135/master/4703.jpg?width=780&quality=45&auto=format&fit=max&dpr=2&s=9b42ec64562783366864356a9cc407b5″,"width":1560},{"src":"https://i.guim.co.uk/img/media/66e792026929053e6f9d4821c085ac68f9adfbf8/0_0_4703_3135/master/4703.jpg?width=620&quality=85&auto=format&fit=max&s=3927572fac1939966d379e85d3cae388″,"width":620},{"src":"https://i.guim.co.uk/img/media/66e792026929053e6f9d4821c085ac68f9adfbf8/0_0_4703_3135/master/4703.jpg?width=620&quality=45&auto=format&fit=max&dpr=2&s=3f6d55f5ed2e62161fb2be657559dee0″,"width":1240},{"src":"https://i.guim.co.uk/img/media/66e792026929053e6f9d4821c085ac68f9adfbf8/0_0_4703_3135/master/4703.jpg?width=605&quality=85&auto=format&fit=max&s=0baaee32bba5f08f70d4e91bb147dc8a","width":605},{"src":"https://i.guim.co.uk/img/media/66e792026929053e6f9d4821c085ac68f9adfbf8/0_0_4703_3135/master/4703.jpg?width=605&quality=45&auto=format&fit=max&dpr=2&s=e6656146e01180072c39abb60c1543aa","width":1210},{"src":"https://i.guim.co.uk/img/media/66e792026929053e6f9d4821c085ac68f9adfbf8/0_0_4703_3135/master/4703.jpg?width=445&quality=85&auto=format&fit=max&s=fcb94e47722eb6c2858bfa00faadec6d","width":445},{"src":"https://i.guim.co.uk/img/media/66e792026929053e6f9d4821c085ac68f9adfbf8/0_0_4703_3135/master/4703.jpg?width=445&quality=45&auto=format&fit=max&dpr=2&s=8df44d65ab3f27266deee31b3f2db020″,"width":890}]},{"weighting":"halfwidth","srcSet":[{"src":"https://i.guim.co.uk/img/media/66e792026929053e6f9d4821c085ac68f9adfbf8/0_0_4703_3135/master/4703.jpg?width=620&quality=85&auto=format&fit=max&s=3927572fac1939966d379e85d3cae388″,"width":620},{"src":"https://i.guim.co.uk/img/media/66e792026929053e6f9d4821c085ac68f9adfbf8/0_0_4703_3135/master/4703.jpg?width=620&quality=45&auto=format&fit=max&dpr=2&s=3f6d55f5ed2e62161fb2be657559dee0″,"width":1240},{"src":"https://i.guim.co.uk/img/media/66e792026929053e6f9d4821c085ac68f9adfbf8/0_0_4703_3135/master/4703.jpg?width=605&quality=85&auto=format&fit=max&s=0baaee32bba5f08f70d4e91bb147dc8a","width":605},{"src":"https://i.guim.co.uk/img/media/66e792026929053e6f9d4821c085ac68f9adfbf8/0_0_4703_3135/master/4703.jpg?width=605&quality=45&auto=format&fit=max&dpr=2&s=e6656146e01180072c39abb60c1543aa","width":1210},{"src":"https://i.guim.co.uk/img/media/66e792026929053e6f9d4821c085ac68f9adfbf8/0_0_4703_3135/master/4703.jpg?width=445&quality=85&auto=format&fit=max&s=fcb94e47722eb6c2858bfa00faadec6d","width":445},{"src":"https://i.guim.co.uk/img/media/66e792026929053e6f9d4821c085ac68f9adfbf8/0_0_4703_3135/master/4703.jpg?width=445&quality=45&auto=format&fit=max&dpr=2&s=8df44d65ab3f27266deee31b3f2db020″,"width":890}]},{"weighting":"immersive","srcSet":[{"src":"https://i.guim.co.uk/img/media/66e792026929053e6f9d4821c085ac68f9adfbf8/0_0_4703_3135/master/4703.jpg?width=1900&quality=85&auto=format&fit=max&s=475ea5d192ef0caedaa5bf9c871db1c3″,"width":1900},{"src":"https://i.guim.co.uk/img/media/66e792026929053e6f9d4821c085ac68f9adfbf8/0_0_4703_3135/master/4703.jpg?width=1900&quality=45&auto=format&fit=max&dpr=2&s=17f3c699008011a8facfa91c54138602″,"width":3800},{"src":"https://i.guim.co.uk/img/media/66e792026929053e6f9d4821c085ac68f9adfbf8/0_0_4703_3135/master/4703.jpg?width=1300&quality=85&auto=format&fit=max&s=182cc56b178842e9e129302b3df258e4″,"width":1300},{"src":"https://i.guim.co.uk/img/media/66e792026929053e6f9d4821c085ac68f9adfbf8/0_0_4703_3135/master/4703.jpg?width=1300&quality=45&auto=format&fit=max&dpr=2&s=f37ba35c03726c8892ff2a1b7697b3d1″,"width":2600},{"src":"https://i.guim.co.uk/img/media/66e792026929053e6f9d4821c085ac68f9adfbf8/0_0_4703_3135/master/4703.jpg?width=1140&quality=85&auto=format&fit=max&s=e14adba9657d60477d02761721e2b7e8″,"width":1140},{"src":"https://i.guim.co.uk/img/media/66e792026929053e6f9d4821c085ac68f9adfbf8/0_0_4703_3135/master/4703.jpg?width=1140&quality=45&auto=format&fit=max&dpr=2&s=d08af8b9e97f86e6a4d7409042598b85″,"width":2280},{"src":"https://i.guim.co.uk/img/media/66e792026929053e6f9d4821c085ac68f9adfbf8/0_0_4703_3135/master/4703.jpg?width=980&quality=85&auto=format&fit=max&s=8a9628f40fa9c8725f4768c888d331e8″,"width":980},{"src":"https://i.guim.co.uk/img/media/66e792026929053e6f9d4821c085ac68f9adfbf8/0_0_4703_3135/master/4703.jpg?width=980&quality=45&auto=format&fit=max&dpr=2&s=d906653207da683de72bf9cef831aed3″,"width":1960},{"src":"https://i.guim.co.uk/img/media/66e792026929053e6f9d4821c085ac68f9adfbf8/0_0_4703_3135/master/4703.jpg?width=740&quality=85&auto=format&fit=max&s=a307cd3d1c04db040567ddcbf80df4fc","width":740},{"src":"https://i.guim.co.uk/img/media/66e792026929053e6f9d4821c085ac68f9adfbf8/0_0_4703_3135/master/4703.jpg?width=740&quality=45&auto=format&fit=max&dpr=2&s=c1c114a1c0efd91fd2c548a9e038dd97″,"width":1480},{"src":"https://i.guim.co.uk/img/media/66e792026929053e6f9d4821c085ac68f9adfbf8/0_0_4703_3135/master/4703.jpg?width=660&quality=85&auto=format&fit=max&s=c931e59b75b5878ccd72fbc665d65319″,"width":660},{"src":"https://i.guim.co.uk/img/media/66e792026929053e6f9d4821c085ac68f9adfbf8/0_0_4703_3135/master/4703.jpg?width=660&quality=45&auto=format&fit=max&dpr=2&s=28b9ff112f73f54c79638c4014e3da30″,"width":1320},{"src":"https://i.guim.co.uk/img/media/66e792026929053e6f9d4821c085ac68f9adfbf8/0_0_4703_3135/master/4703.jpg?width=480&quality=85&auto=format&fit=max&s=9c020c3318b1ca2fbb2233808204d144″,"width":480},{"src":"https://i.guim.co.uk/img/media/66e792026929053e6f9d4821c085ac68f9adfbf8/0_0_4703_3135/master/4703.jpg?width=480&quality=45&auto=format&fit=max&dpr=2&s=878f7ffd380a0a43644798ef51957b7e","width":960}]}],"elementId":"afe4a8ae-aa9f-4723-8c63-aba74ebb320d"}],"attributes":{"pinned":false,"keyEvent":true,"summary":false},"blockCreatedOn":1660591942000,"blockCreatedOnDisplay":"20.32 BST","blockLastUpdated":1660592361000,"blockLastUpdatedDisplay":"20.39 BST","blockFirstPublished":1660591965000,"blockFirstPublishedDisplay":"20.32 BST","blockFirstPublishedDisplayNoTimezone":"20.32″,"title":"GOAL! Liverpool 0-1 Crystal Palace (Zaha 32)","contributors":[],"primaryDateLine":"Mon 15 Aug 2022 22.07 BST","secondaryDateLine":"First published on Mon 15 Aug 2022 19.00 BST"},{"id":"62fa8a6e8f08b32cd2006d6d","elements":[{"_type":"model.dotcomrendering.pageElements.TextBlockElement","html":"

Some interesting selections on both sides. Jurgen Klopp has left out Jordan Henderson, with Harvey Elliott and James Milner preferred in midfield. Nat Phillips, who played so many games in the 2020-21, starts at centre-back. Joel Matip and Ibrahima Konate are injured, while Joe Gomez is only fit enough for the bench. And the record signing Darwin Nunez starts up front.

","elementId":"e6730b62-bdf9-41ad-8b4b-3657d61c1fc3″},{"_type":"model.dotcomrendering.pageElements.TextBlockElement","html":"

It looks like Patrick Vieira has switched to a back five, with Joel Ward replacing Odsonne Edouard. That's the only change from the Palace team that lost to Arsenal ten days ago.

","elementId":"6c07ca08-69a8-4190-be18-a490fb8586ce"},{"_type":"model.dotcomrendering.pageElements.TextBlockElement","html":"

Liverpool (4-3-3) Alisson; Alexander-Arnold, Phillips, van Dijk, Robertson; Elliott, Fabinho, Milner; Salah, Nunez, Diaz.
Substitutes: Adrian, Gomez, Tsimikas, Bajcetic, van den Berg, Keita, Henderson, Carvalho, Clark.

","elementId":"20322434-e079-4300-81fc-56cddd038c62″},{"_type":"model.dotcomrendering.pageElements.TextBlockElement","html":"

Crystal Palace (possible 5-4-1) Guaita; Clyne, Ward, Andersen, Guehi, Mitchell; Ayew, Doucoure, Schlupp, Eze; Zaha.
Substitutes: Johnstone, Richards, Milivojevic, Olise, Hughes, Ebiowei, Plange, Mateta, Edouard.

","elementId":"d16b9837-ae85-4980-a552-49f8f36ba223″},{"_type":"model.dotcomrendering.pageElements.TextBlockElement","html":"

Referee Paul Tierney.

","elementId":"e8c44009-a890-433d-9b7b-6b5b02e86bab"}],"attributes":{"pinned":false,"keyEvent":true,"summary":false},"blockCreatedOn":1660586606000,"blockCreatedOnDisplay":"19.03 BST","blockLastUpdated":1660586786000,"blockLastUpdatedDisplay":"19.06 BST","blockFirstPublished":1660586786000,"blockFirstPublishedDisplay":"19.06 BST","blockFirstPublishedDisplayNoTimezone":"19.06″,"title":"Team news","contributors":[],"primaryDateLine":"Mon 15 Aug 2022 22.07 BST","secondaryDateLine":"First published on Mon 15 Aug 2022 19.00 BST"},{"id":"62fa0ea58f083b8f44401548″,"elements":[{"_type":"model.dotcomrendering.pageElements.TextBlockElement","html":"

The fixture computer can be a sick twist all right. Crystal Palace, aiming to build on a fine first season under Patrick Vieira, have been given the toughest start of any team in the Premier League: an opening game against New Arsenal last week, then Liverpool tonight and Manchester City at the end of August. Sure they also have a winnable match at home to Villa on Saturday, but can we please not dwell on that. I'm trying to sell a narrative here!

","elementId":"2875293b-6c43-43c2-a0ba-fc4e2e7b6515″},{"_type":"model.dotcomrendering.pageElements.TextBlockElement","html":"

Point is, nobody gives Palace much chance tonight. If you're into the whole betting thing, you can get 16/1 on a Palace victory and 6/1 on a draw. Since they had the effrontery to win three consecutive games at Anfield between 2015-17, Palace have lost ten in a row, home and away, against Liverpool.

","elementId":"74b922aa-c6be-4257-8b2e-7558ef3dd984″},{"_type":"model.dotcomrendering.pageElements.TextBlockElement","html":"

This fixture looked formidable even before Liverpool started the season with a sloppy, sluggish 2-2 draw at Fulham. A performance like that has consequences. The Liverpool players have had nine days of listening to the people who doubt their commitment to another season of heavy-metal football. The backlash begins at 8pm.

","elementId":"b635ea46-c82e-49a6-b548-1427e55ed767″}],"attributes":{"pinned":false,"keyEvent":true,"summary":false},"blockCreatedOn":1660586435000,"blockCreatedOnDisplay":"19.00 BST","blockLastUpdated":1660586472000,"blockLastUpdatedDisplay":"19.01 BST","blockFirstPublished":1660586435000,"blockFirstPublishedDisplay":"19.00 BST","blockFirstPublishedDisplayNoTimezone":"19.00″,"title":"Preamble","contributors":[],"primaryDateLine":"Mon 15 Aug 2022 22.07 BST","secondaryDateLine":"First published on Mon 15 Aug 2022 19.00 BST"}],"filterKeyEvents":false,"format":{"display":0,"theme":2,"design":9},"id":"key-events-carousel-mobile"}">

Key events
"In my opinion, Andersen should have received two yellow cards: once for the push, then immediately for the simulation, "explains Paul Bowes. "Red for both would have been fairer."
He got kicked in the face!
"Every defender of the PL" said Chris Barker, "will now try to liquidate Nunez."
I suspect he'll be fine, and that he learned an unpleasant lesson tonight. Or he will go wild all season, scoring 34 goals in all competitions despite seven red cards, all for header kicks.
It could have been worse for Liverpool. They were down 1-0 when Darwin Nunez headed past Joachim Andersen, but Luis Diaz's magnificent individual goal earned them a point. Both teams had chances to win it in a desperate final. Palace were really good: disciplined, controlled and threatening on the break – especially when Eze and Zaha lined up, as they did for Zaha's superb opener.
Full time: Liverpool 1-1 Crystal Palace
Peeppeep! More frustration for Liverpool, but it's a great night's work from Palace.
90+5 minutes The game resumes.
90+5 minutes Now there is a fan on the field, so play has been stopped.
90+4 min: Chance for Andersen! Olise's corner is led down by Richards and on the stretch by Andersen. It wasn't a clear chance, but it was a chance.
90+4 mins Confident Olise lands a corner for Palace…
90+4 mins Palace kills time quite effectively. Ninety seconds to play.
90+3 mins In fact, it was Tsimikas who was sentenced for dissent, not Carvalho.
90+2 mins Carvalho is booked for an overzealous tackle on Olise, which sees Palace lose another 30 seconds.
90+1 mins Five minutes of additional time. Guaita is booked for wasting time.
90 minutes Alexander-Arnold's free kick is returned to the edge of the area by Fabinho. Fabio Carvalho runs around the ball and sends a left-footed volley that goes this quite wide. Guaita did not move.
90 minutes Ward is penalized for struggling with Diaz 45 yards from goal. Liverpool send the big men forward for the free kick…
89 minutes "As a United fan," says David Flynn, "if you had told me we were only two points behind Liverpool at this stage of the season, I would have taken your hand away."
Imagine if they win next week. No, me neither.
88 minutes Edouard is reserved for I don't know what.
88 minutes "Good," Matt Dony said. "As long as Liverpool do the double against City, it's fine."
Norwich descended mate rofl.
88 minutes Change for Palace: Michael Olise replaces the impressive Jeff Schlupp.
87 min: Right next to Salah! It was a good effort. Tsimikas' cross hit a defender and headed to the edge of the area through Ward. Salah backpedaled into the D, cushioned the falling ball and slapped it just wide from the near post on the rebound.
85 minutes A quiet period, with Liverpool struggling to generate attacking momentum. Still.
83 minutes Diaz's goal gets better every time you see him.
And Nunez's headbutt gets funnier/weirder with each viewing.
82 minutes "Although Liverpool were dominant for most of this game, I still think they are playing even better now that they are one man down," Shoaib wrote. "Instead of Palace counting their advantage and putting pressure on Liverpool, it is the latter who have been exceptional with and without the ball. Palace must be reminded that they are the ones who have the extra man on the pitch.
Palace look quite tired, although they are still creating chances during the break.
81 minutes Schlupp loops an excellent pass to Edouard on the right. He slips a low cross into the box for Zaha, whose first heavy touch allows van Dijk to clear. It was another decent chance for Palace.
79 minutes Three changes for Palace: Chris Richards, Luka Milivojevic and Will Hughes replace Mitchell, the superb Eze and Doucoure. Liverpool bring in Fabio Carvalho for Elliott.
78 min: Great opportunity for Zaha! Edouard, on the right edge of the area, rolled up on a superb cross volleyed wide on the right by Zaha at the far post. He was only a few yards away, but he went with his right foot when the left would have been more natural.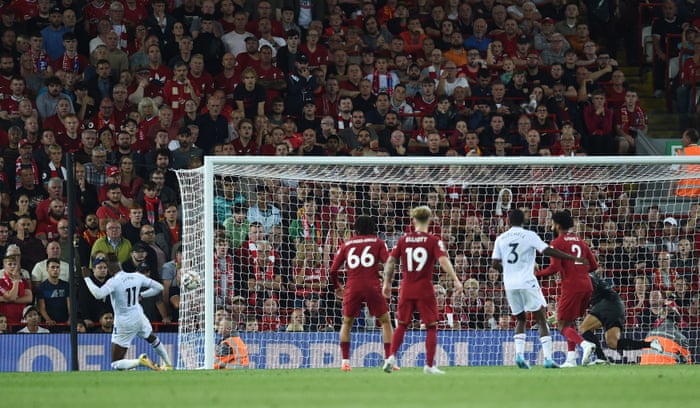 75 minutes Tsimikas' corner kicks away and Palace breaks three against three. Diaz charges past the man in possession, Zaha, and makes a vital tackle into the center circle. Diaz was on one in the second half.
75 minutes Liverpool continue to dominate possession, as they have done all night. Salah slips away from Mitchell, who recovers well to concede a corner…
73 minutes "You hope for the sake of Liverpool that the red card won't damage Nunez's career too much, but he seemed very late today," said Dechlan Brennan. "His headbutt was the cleanest contact he had made all night.
I think there will always be games when Andy Carroll is trending; Nunez is that kind of player. But if he learns to stop putting his head on people, I would still like him to score 30 goals this season. His movement and aggression means he will always have plenty of chances, certainly in this team.
72 minutes "Everyone remembers Ibrahimovic's taekwondo goals," says Phil Podolsky, "but there was a taekwondo pass to Barca that makes me chuckle every time."
71 minutes Alexander-Arnold misses a decent chance, splashing wide from a tight angle after a smart shot from Salah. In fact, I don't think it would have counted – replays suggest he was slightly offside.
69 minutes Nunez had actually thrown his head back in Andersen's face moments earlier, which is why Andersen pushed him in the back. All very strange.
68 minutes Ward is booked for a foul on the increasingly influential Diaz, which has come to life since we criticized him at half-time.
67 minutes "I know Andersen fell like a felled tree, but what was Nunez thinking?" said Rachel Clifton. "Not to mention discussing the score with the referee. Total red haze.
I've certainly seen more proportionate reactions to a push in the back. That said, while GNM doesn't condone etc., I did appreciate how emphatic it was. He didn't bother trying to disguise it, he just sent Andersen straight to the canvas. In that respect, it was like Zidane over Materazzi.
65 minutes Liverpool now play a 4-3-2, with Salah and Diaz up front. At the moment, they seem like the most likely winners, even with 10 men.
64 minutes "Rob", writes Vincent, "I don't think that was what Klopp had in mind when he told Nunez at half-time to use his head!"
63 minutes Palace bring in Odsonne Edouard for Jordan Ayew.
63 minutes A triple change for Liverpool: Jordan Henderson, Joe Gomez and Kostas Tsimikas replace Nat Phillips, Andy Robertson and James Milner.
It's a glorious equalizer! Diaz cut inside the left, beating five players with a combination of dummies and quick feet, before throwing a curler past Guaita from the edge of the D.
OBJECTIVE! Liverpool 1-1 Crystal Palace (Diaz 61)
What a goal from Luis Diaz!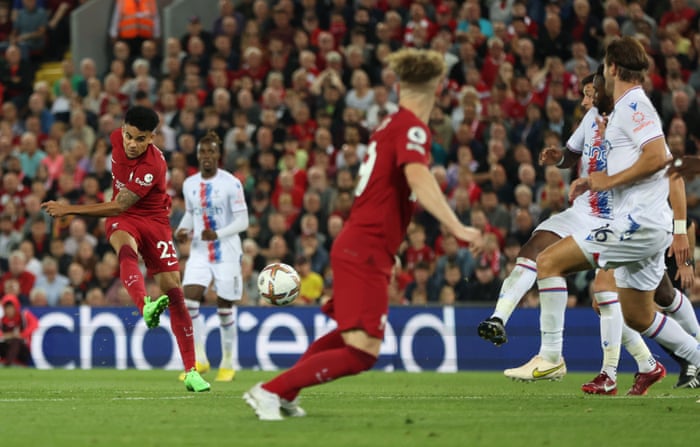 61 minutes Nunez will also be banned for the next three games. Anfield has become very quiet and Liverpool are just beginning to orient themselves. It looks like replacements are also imminent.
59 minutes Andersen was also booked for the push on Nunez. It was such a peculiar overreaction from Nunez. I'm sure he was frustrated after missing three good to excellent chances earlier in the game, but that's no reason to start giving Glasgow kisses.
58 minutes Nunez pleads his case but it was a clear whim. Andersen shoved him in the back, complaining about something, at which point Nunez turned around and stuck his head in!
57 minutes Oh my God! Darwin Nunez has been shown a red card for headbutting Joachim Andersen!